Recently Heather and Jeremy Reynolds joined Redmond on a company leadership retreat on beautiful Lake Powell. Heather was kind enough to share her experience with us:


"Jeremy and I were invited to the Redmond Lake Powell company trip. When we were invited we hadn't met anyone on the trip in person before. The trip sounded fun and we really like the Redmond products so we decided to go for it as we wanted to get to know people in the company. When we told our friends we were going to Lake Powell on a houseboat they would ask us who we were going with and we would have to pause and then tell them that we really didn't know! That was the only odd part about it really. We flew to Arizona and Mike Mumford met us at the airport. We drove to the lake and Mike filled us in on what to expect and told us a little about the company. When we got to the lake we loaded our stuff into a ski boat and headed out on the lake to find where the 5 houseboats were anchored. I had never been to Lake Powell or on a houseboat so I really had no idea of what to expect. Jeremy had been to this lake many summers on houseboats growing up as a kid with his family. As we cruised along I was loving the sights of the red cliffs and rock formations all around the lake and the weather was perfect. Mike was pointing out formations so we would be able to recognize where in the lake we were so we would have reference points during our stay.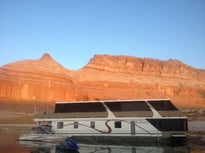 When we pulled up to where the Redmond boats were, it looked like its own little village. There were ski boats and jet skis with the 5 houseboats. All of the houseboats were huge. The one we were staying in was a bit over 70′ long. If you have ever been in a top of the line RV with pop outs and granite counter tops you can start to imagine how these boats are on the inside, only bigger and even nicer. We set our stuff down in our room and then headed over to the biggest boat to meet up with the other guests, which were people who worked for Redmond or partnered with Redmond and family members of those people. If I recall correctly there were about 60 people on our trip. The big boat had an upper deck that accommodated everyone for meetings and meals.


There was an intro meet and greet and then dinner. All of the meals were prepared by a staff member and the food was absolutely incredible. All of the meals were fresh and organic and very tasty. Our taste buds were spoiled for sure!! After dinner there were various discussions you could in which we could participate on all of the boats. You would pick the topic that most interested you and then go to that discussion. Each one of these were for continued education to help you with life in general. It could be applied on so many levels. Jeremy and I found these very enjoyable.


The next morning we had a delicious breakfast and then went on an excursion. The one we opted for was the kayaking and exploring a slot canyon. We headed out on a ski boat and went to a place to begin our kayak adventure. I don't really care for Kayaking as it is all upper body and that is not my strength. I was happy to be partnered with Jeremy for this reason!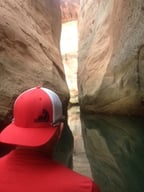 There were about 20 people on our outing. The kayak ended at the mouth of a slot canyon. It was pretty awesome. We were hiking through what was really close to being quicksand. The canyon was beautiful. As we got nearer to the end it got more narrow. At the end there was a deep pool of water and when we got inspired enough to try getting into it you could look up at a spiraling rock formation high above you. Very awesome!!


The group of people on the trip are each amazing as you get to know them. They were all people that I would want to hang out with any day of the week. Each of them were passionate in their own way about what they were doing for the company. Many of the guests had very unique back stories. As we were kayaking with Mike he was telling us about when he was in the Olympics!


When we returned to the boat Jeremy and I had lunch and then a decadent nap. After that we took out a jet ski and had a look around. That evening we had dinner and another discussion. Then we all had ice cream.


As we were finding out more about how the company was run we were growing more impressed. The company finds employees that they feel will work well within the company and then they help the employee find their stride and if one finds a particular avenue that they want to pursue that will help the company grow the company supports the employee and let's him start up that new area of production. Pretty awesome. It was apparent that the company has people with many strengths and the people respected each other abilities and really supported the others strengths. Pretty different and refreshing as a company structure.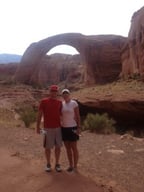 On the second day we headed out to the amazing rock formation, Rainbow Bridge. Absolutely beautiful. There was a ranger there who gave us the history on it as well as the parks history. Pretty awesome as well. After that we ate a picnic lunch in another canyon from the ski boat. We linked two boats together and had a floating picnic. The longer we were on this trip the more I felt we were in the movie WaterWorld! After lunch we swam around the boat some before heading back.


That evening was another great dinner and more discussions. We were having a great time. There was a large group that would play Texas Hold 'Em each night as well. There was also a two person plane that a guy named Blue had brought to give plane rides above the lake in.


The next morning we headed out after breakfast to go wake surfing. I had been wake boarding once before but that was the extent on my experience being pulled behind a boat. The surfing was really cool. (The boat ballast is adjusted to make a big wake/wave and the the balance is put to one side more than the other to produce more of a wave, then the passengers load that same side of the boat more heavily.) You get behind the boat on a very short rope and then put your feet on a thin board that is a bit bigger than a skim board. You are not strapped to the board. The boat pulled me up much more easily than it had been the one time I went wake boarding. The goal is to get into a sweet spot where all of the sudden the tow rope goes slack and you are balancing on the wave and just the wave is pulling you forward. I did get this feeling for a very brief moment. It was pretty cool. Jeremy also went and later went wake boarding as well.


That night was the final farewell dinner. It was really fun. There was a video of the trip that we all watched as well as pics from throughout.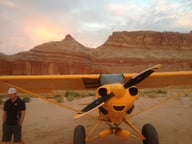 The last morning Jeremy and I each had a separate turn flying with Blue in his plane. What a trip!! The plane takes off and lands in a really tight short spot. We took off from a small strip of beach and then flew over the water and then up over the rock cliffs. Blue then asked if I wanted to have a free fall. I said I would try it. He gave me a warning that he was going to do it. We dropped off the edge of a cliff. Right as I thought oh crap, this is really dropping he leveled it out. He knew how much a non stunt pilot would enjoy before it became scary!! He was a great pilot to go up with as I felt really well taken care of.


In all this was an incredible trip. We were so happy to be included. As we left for home all we could think of was what an incredible group we had spent time with and how great the company was run as a group.


Heather"