By Jec A. Ballou
By mile 28, I had all of our muscles in mind—my own, my teammate's, and our horse's. An identifiable panic that they all might not hold up for the remaining hot seven miles dented my ribcage. We were within sight of 3rd place at the Ride and Tie World Championships, but the desert heat and elevation had combined to drain any reserves we might have stored. My legs moved heavier each step, the horse's body felt labored. And yet we all trudged on, able and steady.
Right then I thought about the Redmond salt and minerals that all three of us had fueled on and what an extreme test we were putting them to. For the uninitiated, Ride and Tie is an endurance race where each human on the team (teams are made of two runners plus a horse), alternates running and riding. As each rider swaps her role to runner, she jumps off the horse and leaves him tied to a tree until her teammate catches up and climbs onboard. Each team continues to leapfrog in this manner for 35 miles; the fastest team wins.
For the 2016 championship event at Cuyamaca State Park outside San Diego, our whole team relied on Redmond beginning three days before the race when I upped our horse's Redmond Rock Crushed intake and dosed him with a syringe of Daily Gold paste for the long trailer ride. The morning of the race, my teammate and I tucked several Re-Lyte tablets (Real Salt) in our hydration running packs. The fierce desert sun was doing its best to melt us after the initial miles of singletrack where a few shadows still lingered across the trail. Temperatures climbed towards mid-90's, the dry air felt thin and inadequate. This was the kind of day when even well primed muscles just quit, or cramped. Or horses got dehydrated and could not recover.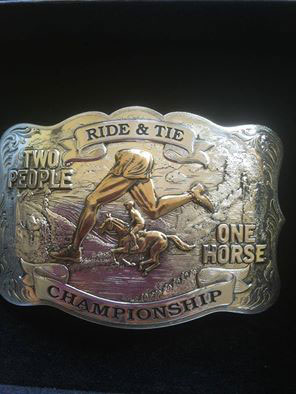 And yet—thanks, Redmond!—none of that happened. Our Arabian gelding Duncan sailed through both mid-course vet inspections with good hydration and gut sounds. Melissa and I lost some speed in the last miles, but our legs never cramped or quit. When I worried that my quads would turn rubbery and useless, they kept responding fine. We kept a steady assault on every rock-strewn hill as it came, scrambled through dried up streambeds. When we made the final turn on a dusty trail to the finish line, we have a little surge of everything left to claim 4th place, our highest placing so far in the championships of this challenging, crazy sport.
Redmond's motto is to 'elevate the human experience.' I have been a first-hand recipient of that promise more than once. A month earlier, I had run across the Grand Canyon and back relying on Re-lyte tablets. And now here I was at another finish line, this time with a friend and a horse also elevated by Redmond. In today's hyper niche nutritional world, I'm grateful to have a company so straightforward and simple that can cover the needs of both my horse and I in the daily challenged I love.
Jec is a committed rider, author, philosopher, published poet, and athlete. jecballou.com