by Glenn Hebert
After some 20 years without a horse of my own, the planets had at last aligned, and the time was right to go 'horse shopping'.
Now I'm a driver and a pony guy, so the pool of potential equine partners is limited from the start, but after several weeks of surfing the internet classifieds my wife and I had two good prospects lined up, both Hackney ponies.
My wife and I pulled in to appointment number one just before lunch on the appointed Sunday. We were greeted by a post card worthy Live Oak lined drive, requisite barking pocket dog, and a friendly, knowledgeable owner. The object of our visit turned out to be a fat, sassy, and well loved little mare. She didn't scream take me home, so we moved on to our next appointment.
An hour later we pulled in to our second stop. The contrast from our previous destination could not have been more stark. We parked next to a sand lot, enclosed by various cobbled together bits of wire, string, and corral panels. Within the lot were a dozen or so under fed horses and ponies. The owner was clearly in over her head. But we were in for a bigger shock. Following a brief introduction, the seller lead us to the far end of the property where a little bay skeleton was pulling mouthfuls of hay from the center of a round bale.
It was obvious that this little fella, unlike his only slightly thin paddock mates, was on the fast track to dead, so I looked at my wife and whispered "If we don't take him, you know he's gonna just drop dead, and real soon." My normally not prone to soft hearted horse purchasing wife agreed, and PT (Poor Thing) came home with us. At least, if he didn't make it, he'd go with a full tummy.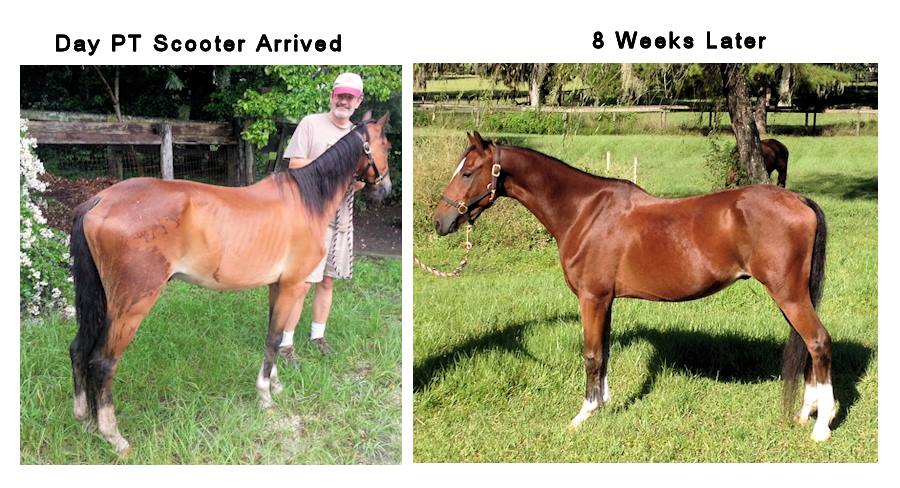 In short order we had vet number one give him a look. It appeared that all PT needed was basic good care. Having never brought a horse back from the brink before, vet number two wrote up a very detailed 're-feeding' program designed just for starved horses. Since PT had liquid diarrhea upon his arrival (from eating the fermented round bale), we added Daily Gold to his meals from day one, and kept him on it until the diarrhea subsided. We hung Redmond Rock on a Rope on the fence near his water trough, which he just LOVES. I really credit his eating that rock because during the 2 weeks it took for him to work through the diarrhea, he was never dehydrated.
You can listen to Glenn Hebert of Horses in the Morning on the Horse Radio Network