I have nine horses. Well, technically I have seven full-sized horses, a mini horse and a mini donkey. I'm a therapist who added EAP (Equine Assisted Psychotherapy) to my tool box of methods to help people feel better and do better in their lives.
I was late to come to horses. I didn't discover my passion for them until I was in my 50's. In the nine years I have had the privilege of working with these amazing beings, I have had a lot of experience with "losing my horse", which means I have also had a lot of experience with trying to "get my horse back."
River was our 11 year old rescue horse. A friend of mine called me one day and said "I know you are looking for a horse for your program, and I have one I think you should look at." Long story short, River's owner of 9 years had sustained an injury and for two years had been unable to ride River. In those two years, River was the "go to" horse for beginners. She was passed from person to person, from lesson to lesson, and she had become so introverted, her owner was very concerned. We decided to take her on. I worked with her for months. One day two young boys asked if they could use River for one of the EAP tasks. I decided to allow it. There were two lead ropes on her halter, so there was one boy on her left and one on her right. After being haltered, River saw me on the other side of the arena and dragged the boys over to me. I looked at her and said, "Would you be willing to help these two boys today?" She put her head down, stood there for a moment, then licked and chewed, reached over touched me softly on the top of my hand with her nose, then she reached over touched one boy on his hand, then the other, and then walked off with the boys. We had gotten River back. And she has helped get a few EAP kids back as well.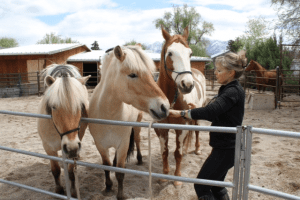 We had another rescue horse. He flinched if we moved too fast. He refused to trust us. But we could trust him. He carried kids from the age of 3 on. He was so good with them. One day my husband and I walked up to feed and Jake was lying down. My husband said "He's colicking." Honestly, he looked like he was sound asleep to me, but when the vet came, Jake was indeed colicking. It was several hours of oil down his throat, bamimine, and walking before we saw those wonderful horse apples. From then on, Jake trusted us, too. The difference was amazing.
Not all stories have a happy ending. I came to feed one morning and my thoroughbred, Nikko, was down and in obvious pain. He was my hunter jumper and we had won State together in the UHJA 2007 Middle Stirrup division. When the vet gave us the blood results, we knew we had no options. It was too late for him. He was septic. Our horses are wonderful gifts from heaven that we can't keep. It broke my heart to give him back so soon. Now I feed Daily Gold every morning.
So, there are many, many ways of getting our horses back. With this many horses, I'm sure over time, I'll learn a lot more.
Jolene Green