For the last year and a half we have been using Redmond Daily Gold on one of our top level show jumpers. After trying all of the expensive products like GastroGard and Omeprazole for ulcers and other products for calming and stress, we were about to give up on this horse. We spent so much time and money trying different products and nothing seemed to be helping. Then we decided to try Daily Gold.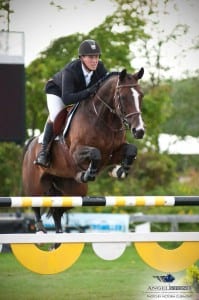 For this horse the supplement has changed his life. He no longer jumps all over in the cross ties, he doesn't bite at his sides anymore, and he doesn't pass as much manure when being ridden. Before using Daily Gold he would pass manure 6-10 times in one ride and as a result he would lose all his power and energy while passing manure, making jumping very hard. He is more focused when being ridden and he also doesn't show signs of having ulcers anymore.
We are so happy with what this product has done for this horse. We also have all of our horses on Redmond Daily Red. This is also a wonderful product. Since we have all show horses the Daily Red keeps their coats nice and their feet looking great, as well as being a terrific electrolyte.
Brianne Robinson with G & G Sporthorses