Daily routines are a necessary part of my life providing reliable order to keep my family running smooth. My routine yesterday unexpectedly went awry and through the chaos, I recognized another gift from God revealed through our horses… the gift of community.
While hauling my daughter's pony, my truck died as I started up a fairly steep and winding road. I reattached my brain after a moment of panic and called 911. The Sheriffs arrived after what felt like forever followed by a girlfriend with her trailer. We blocked the entire intersection behind us to safely move Marigold into the second trailer. Being a significant intersection of rural roads giving one way out of town and no alternative routes meant that cars were backing up in the almost rush hour traffic. After a long stint completely blocking the road again to get my F250 — still towing the trailer — hooked up to the tow truck, we eventually made it up the hill. I tried not to think about the upset drivers waiting for us to move out of the way.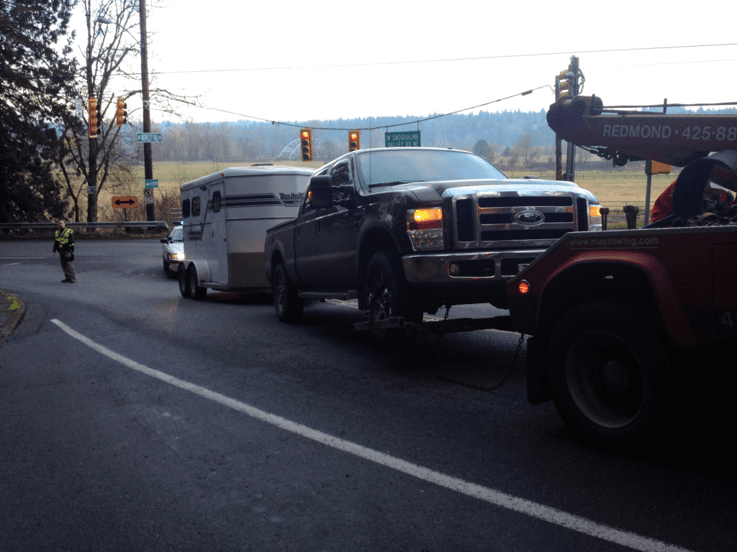 In all of this craziness, something amazing happened. I realized that my horses have provided me with a fervent and selfless community. A shocking number of strangers and friends helped without hesitation. A gentleman directed traffic until the Sheriffs arrived, and numerous people offered to make calls or to return with their own trucks and trailers. Many friends graciously offered any assistance needed. A girlfriend took care of my daughter and hauled Marigold up the hill, feeding the pony dinner and settling her into a paddock for the night. Another terrific friend loaned me his F350 while two other girlfriends offered to haul everything home even though they both had young children and dinnertime approaching. The vast amount of help offered and extended was awe-inspiring.
On the way home later that evening, I was blessed with an opportunity to repay this incredible community. A horse trailer parked on the side of the road had two horses out grazing in the dark. The situation was well in hand with a vet present, but we stayed for a bit chatting and soothing the horses. I hope that our company gifted the couple with a warm sense of caring community around them in their time of distress.
Having true community is a joyous gift. For my family, we fully appreciate that community is just another reason that God made a horse for us.
Michelle Jacob