Michelle Jacob shares how love for horses can be learned with time and how that love can spread to an entire family…
When my now 11-year-old daughter was five, I had a difficult time finding an activity she loved. Everyone in gymnastics already knew how to cartwheel, cheerleading was too loud and soccer was too competitive. I found a lovely small riding facility named Neophyte Farms in Simi Valley, Calif. and took Avery for her first lesson. She was timid of her mount Tyler's head, but she hopped up on his back and walked into the arena. I started riding shortly after because besides looking like an incredible amount of fun, I saw an opportunity to show my daughter that adults never stop learning.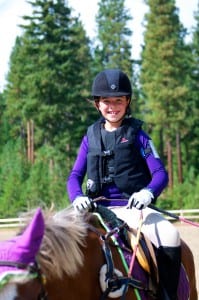 Avery has watched me struggle over the following years as riding isn't a natural sport for me. My confidence has been a roller coaster of ups and downs as I've broken my collarbone in a fall, struggled with understanding how to use the aids, worked on my position endlessly and so much more. Last year, I bought a beautiful mustang named Lexi. I leased her for six weeks before riding her. She was amazing on the trails, solid in the arena and a terrific jumper who loves cross-country. Her dressage and canter needed some work, but I looked forward to the challenge. I made the decision to buy her and once she was mine, it was as if she knew there was a changing of the guard.
Lexi is a strong, independent mare who is too smart for her own good. She knows how to evade my aids, open stall doors, pull back in the cross ties, jig down the trail, express her "barn sourness" and more. She invites horses over for a chat and then squeals at them. She basically stood in front of me and said, "Ok, so I understand that you are my girl… now what are you going to do with me? Be warned, I won't make it easy."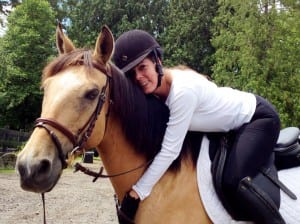 We started with some basic natural horsemanship. Skills that I still frequently revert back to when she jigs home on the trail or rushes to her paddock when dinner is waiting. She would back up all over the arena on the lunge line, but I learned how to be her leader. She loves to jump, however I'm hesitant to get her feet off the ground. Sometimes, she's light and supple in our dressage work. Other days, it feels like I'm sitting in an old truck with broken down shocks. She threw me once, and only once, but seems to take care of me now. I know that she is capable of breaking me, and that reality is somewhere in the back of my mind most days. I've had to learn that I can be tough with her and trust my seat when she balks at the reprimand. Some days, she will totally ignore me. Other days, she will walk up behind me in her round pen and stand quietly right against my side. Yesterday, I let her off the lead to free jump her. She didn't budge showing me that she's been paying attention to her ground tying work. I've loved her after a great ride and walked away from her with tears in my eyes when she tests me beyond my limits.
I didn't grow up riding, so buying a young horse was a challenge I underestimated at the start. However, I'm extremely grateful for her and proud of myself for not giving up. She teaches me lessons about myself and helps my family learn more about me. Avery (who can jump the moon) seems to respect me a bit more because my path hasn't been effortless. Although my son doesn't yet ride, he adores Lexi and will spend hours grooming her. When he sings to her, she lowers her head and sinks into his rhythm. They have an incredible bond. I often see him quietly alongside the paddocks petting and talking to other horses in our barn. I struggle to find the right words to express the feeling of mutual admiration between boy and horse that comes out in those tender moments.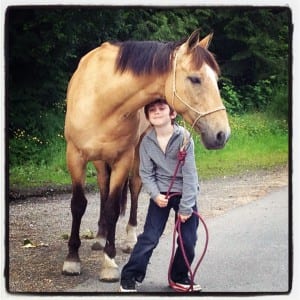 Two years ago, I put my full-time career on hold to focus on the children. Nolan was diagnosed with ADHD along with a vision disorder, and needed so much more of my focus to help him be successful. Today, he is a different kid. He enjoys school, loves learning, plays well with his sister, uses impeccable manners (most of the time) and has the kindest heart of any child I've ever met. Avery has blossomed incredibly over the years. Riding everyday, being at the barn with her trainer and without me, hitting the dirt more times than she can count, having good show rounds and some dirty stops on the cross country field… these things have both shaken and boosted her confidence. I can't imagine any other sport having the profound effect on her as riding has had. In the past, Avery would barely talk to adults she didn't know. In June, she was the class speaker at her elementary school promotion.
My husband didn't fall in love with a horsewoman 17 years ago when we met. My "hobby" blossomed into a lifestyle before his eyes, and Mike has been incredibly gracious and supportive. Not only do we own Lexi, but also last summer we purchased Avery's DWB x Welsh Marigold. This spring, we bought a house on five acres of land, a tractor, a horse trailer and a F250 super cab. My non-horse-person husband and I are creating an amazing life for our children. Previously, we lived in the row homes and suburbs of San Francisco, Los Angeles and London. Today, we are building "Kingfisher Farm" named after a legacy of boats in my family. Since we've traded the water for livestock, we are carrying on that name in a new way.
When I struggle with Lexi, barter for lessons, confess to my husband the "dirty little sins" of how much the horses really cost… I do these things knowing that our horses are an immeasurable and integral part of this new plan for my family's future. I've forged irreplaceable friendships with other riders and horse families, along with our trainers, Jordán Linstedt and Bianca Linder. I could ride alongside Avery everyday, all day long. Nolan's beautiful connection with horses brings me immense joy. Communication between Mike and I has drastically opened up lately. We are now trying to find ways to incorporate our very different passions into our daily lives, while still keeping the bills paid. I'm looking forward to the time when we can camp, ride and fish all in one weekend. If there happens to be a golf course or driving range nearby, then we would hit a total home run.
It's amazing how everything – horses, family and life's rollercoaster – all ties together. I know that I've only begun to see the role that horses play in God's plan for my family and myself.
Michelle Stephens Jacob