In 2011 I had sold 3 barrel horses and was planning to buy the perfect horse to take the next step in my barrel racing career. I wanted something perfect. I remember sitting at Jane and Ryan Melby's house and Ryan said, "What do you want in a horse? Do u want a mare or a gelding? A long strided horse or short strided horse? A push style horse or a free runner?"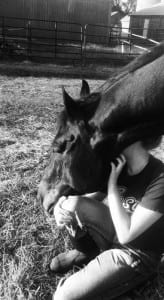 I really didn't have an answer to his questions, so I rode a lot of horses and studied a lot about myself. After about a year I figured out what kind of horse fit me. I went to the Melby house to ride one day and saw their daughter riding this stunningly beautiful dark bay horse that they had just purchased for her to run barrels on. I went out to the arena to watch her make a run on him and my heart melted. This was the horse I had been dreaming of. The family told me for months they wouldn't sell him. One day out of the blue I got a phone call to come try the horse out. The family needed to liquidate some horses since their mother was on the road to the NFR.
The moment I swung a leg over him it was like putting on a good old pair of jeans. We have never looked back from that day. We have had a lot of ups and downs but he is and will always be my perfect horse.
Kara Posch
[divider line_type="Full Width Line" custom_height="100″]
Subscribe to the Redmond Equine Newsletter
Join other horse lovers and be part of the Redmond Equine community. We'll share cool tips, fun pictures, giveaways, and more!
[mc4wp_form]
[divider line_type="No Line" custom_height="40″]