I have 10 horses. They all have jobs: jumping, driving, lessons, etc., but their most important job is helping people. They are therapy horses. A lot of people depend on them. They depend on me to keep them healthy and hydrated. I depend on Redmond's Daily Gold, salt Rocks and Redmond Rock Crushed salt added to their other daily supplements. I love seeing their water buckets half emptied during the night. Their 100 gallon water trough in turnout has to be filled daily. I love hydrated horses.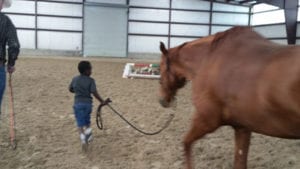 One of the favorites of the herd is Donkey. He came to The Barn when he was five months old. He was a rescue. He was being fed 4 squares of dry hay blocks a day, had had no vaccines, vet checks or hoof care. The vet said he hadn't grown appropriately because he was severely underfed. He was also dehydrated. We put him on free feed, scattered salt rocks, added Daily Gold and Redmond Rock Crushed salt to his morning supplements. Before long, he was healthy, hydrated and well fed. This was extremely lucky for Santos. Santos was a reservist in the National Healer Competition. He loved his job and had won a lot of money. Then he was put into a slide stop without his slide boots. He was permanently disabled. Everyone who came on the property said he was depressed. Who wouldn't be? In one moment he lost his health, his job, his herd, his home and his leader. He was donated to our non-profit when it became clear he would never fully recover.
Donkey and Santos hit it off immediately. They instantly became inseparable. If we didn't let Donkey go into Santos stall with him at night, Donkey cried. Donkey stands underneath Santos when it rains and when it's really sunny and hot. They go everywhere together. They eat together and they sleep together. When Santos is helping with therapy by giving someone a walking ride, Donkey barges into the arena, grabs Santos's lead rope in his mouth and walks with him.
I love my herd. I love Redmond for helping me keep them healthy and happy.
Jolene Green