Call me a sucker, I always seem to be picking up the green Arabians than need a lot of confidence building. I collected Kenlyn Kourage from a good friend, in Denver about four months ago, and I am sure I fell off him every time I rode for the first two months. Kourage is an endurance bred Arabian, and despite his six years, had been ridden very little and hardly, if ever, on the trails. His, was quite an inappropriate name for an anxious jumpy scardy spirited Arabian!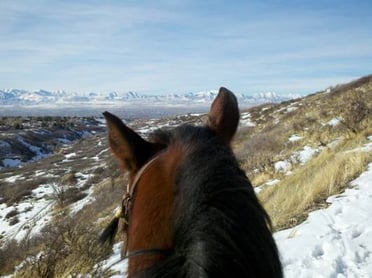 I can still feel my bruised ribs and swollen fingers from those unintentional dismounts. I was lucky Utah was knee deep in powder snow, so many of my falls were pretty soft. Fortunately, there have also been some huge benefits in our learning phase. I have learned that when Kourage starts to feel anxious, I can distract him from the worry, and keep him focused on his job, and on the trail. It certainly helps that horses can only focus on one thing at a time. This has helped settle him down when we come across some dogs, plastic bags and runners on the trail. He has also learned from the many miles we have put in this winter to relax and enjoy the rides. He has begun to lead the two or three companions we ride with and his endurance heritage is beginning to surface with his long strides and eager trot.


We have put some longer slow rides in recently, including a two day cattle round up in Arizona. These will prepare us well for our first fifty mile AERC endurance on Antelope Island in Utah. (Stay tuned for race blog entry)


Kourage is turning into a confident capable partner with a wonderful disposition. For now, the skittishness and nervous behavior from these young Arabians is worth it for the satisfaction I get watching their rapid growth. I have really enjoyed seeing this guy develop. I shall be sorry to see him return to his owner Linda Fisher, at kenlyn Stables the end of April.