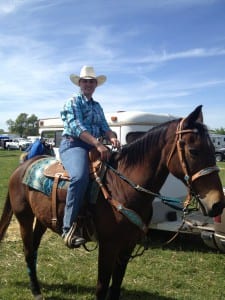 by Sarah Luke
I am a barrel racer who started using Daily Gold about a year and a half ago after a really bad race. I worked at a feed store in Salinas, CA that carried Daily Gold and one of my fellow barrel racers recommended it after I told her about my horse and our last race. I am currently running a 21 yr old Thoroughbred, Rocket, that has always been a bit high strung. When I purchased him 7 yrs ago he was not a productive barrel horse. I laid him off and slowly brought him back. In 2011, he bowed a tendon and got another year off. In 2012, I started running him pretty heavy, but he was nervous, would sweat really bad, sometimes be uncontrollable in the barrel pen and just not a joy to be around.
In March of 2012, I started Rocket on the Daily Gold because I thought he might have ulcers or some kind of stomach issue. I started with the 2 scoop/daily dose and continued that way all through last season and much of this season. I saw a significant difference in my horse's attitude. He was sweating less, easier to ride, and running consistent times. This year I continued on the Daily Gold with much success in the race season. I recently ran out of my Daily Gold and my last race, I noticed that he was sweating a little more for the first time this season and was a little harder to handle. I will be placing him back on 2 scoops/daily this week. We are currently sitting #1 in points in the 4D of NBHA CA district 12 and having the best season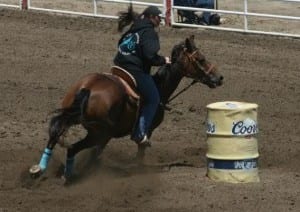 of my career. I strongly believe that my feed and the use of Daily Gold are the reason we have been successful this year.
Note: Sarah has since gone on to win the District 12 4D of the NBHA CA. Congratulations Sarah![/vc_column_text][divider line_type="No Line" custom_height="30″][vc_column_text]