Redmond Daily Gold Pellets: Natural Digestive Supplement for Horses
January 21, 2021
Horses are incredibly willing animals that give boundless energy and effort to their human partners—and we love them for it. But because we ask so much of them, it often creates stress, anxiety, and difficulty maintaining a healthy and ulcer-free gut, especially in performance horses.
You want your horse to be healthy, happy, and at ease. That's why Redmond created all-natural Daily Gold Stress Relief horse supplement. It works wonders on equine digestion! We've heard from thousands of customers who love the product... but we've also learned not every horse finds the powder palatable.
It's an obstacle we've worked hard to resolve, and now? We're so excited to introduce to you pelleted Daily Gold! Horses love this new appetizing and completely natural formula. It delivers all the same digestion and calming benefits as Daily Gold powder, but in flavorful, easy-to-feed pellets horses readily eat. Pelleted Daily Gold is perfect for picky eaters, ulcer-prone horses, and every other horse in your barn. Let's cover all you need to know to feel great about feeding it to your horse.
---
What's in Pelleted Daily Gold?
You probably spend as much time worrying about your horse's health as you do your own—maybe more. Sound familiar? We feel the same way about our horses. That's why we understand what's not in our products is as important as what is. And the answer is simple. Pelleted Daily Gold horse supplement contains just two natural ingredients: alfalfa meal and Daily Gold. 
The alfalfa meal is a patented high-fiber, low-starch alfalfa stem product called ProFiber Plus. We use it as a natural and appetizing carrier for Daily Gold. And the alfalfa is not "Roundup Ready," so you don't have to worry about genetically modified feed.
Daily Gold is just pure Redmond-brand montmorillonite (bentonite) clay mined from our ancient mineral deposit. Click here for a complete nutritional analysis of pelleted Daily Gold.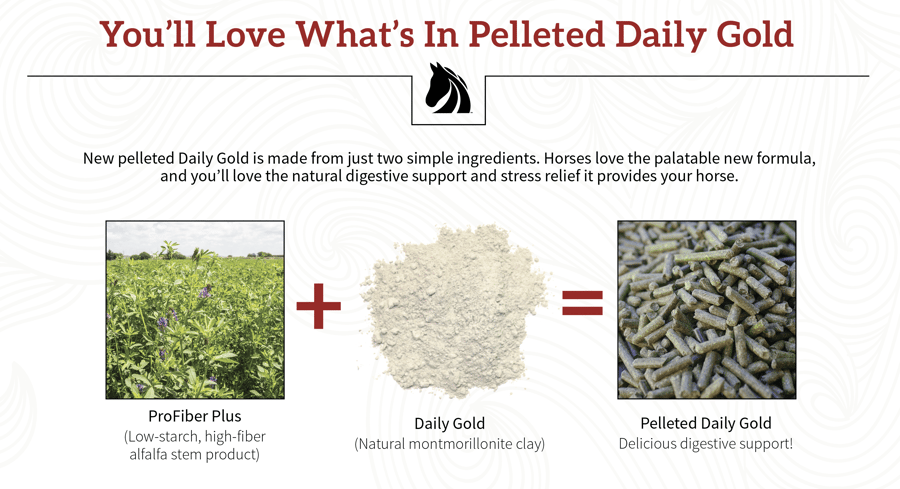 Why it's the Best Horse Digestive Supplement Available
If your horse already loves Daily Gold powder, there's really no reason to switch; it delivers all the gut support and natural stress relief horses need. However, if you're looking for a more palatable equine digestion supplement for your performance horse, we believe pelleted Daily Gold is your answer. Here are the benefits it provides.
1. Highly Palatable
While many horses happily slick up Daily Gold powder, we understand not all do. Pelleted Daily Gold as the solution for those picky pallets. Our pellets are incredibly fragrant and appetizing. And did we mention they smell amazing? You'll understand the first time you tear open a bag. The horse in the video at the bottom of the blog already gets it!
2. Horse Digestion Aid
 Pure bentonite clay buffers stomach acid, heals painful ulcers in horses, improves nutrient absorption through increased gut flora, binds harmful aflatoxins, and resolves diarrhea (National Library of Medicine).
3. Relief for Stressed Horses
 Helps your horse feel better and focus by naturally healing digestive issues that create discomfort and anxiety. 
4. Natural Trace Minerals
 Redmond bentonite contains a wealth of 60+ essential trace minerals horses need for maintenance of body structure, fluid balance in cells, nerve conduction, and muscle contraction (Rutgers).
5. Simple Ingredients
Contains no dyes, artificial flavors, added sugars, or fillers. Daily Gold pellets are a natural source of vitamins and minerals.
6. Good Gut Health
Our low-starch, high-fiber formula is important because it promotes a healthy digestive tract, hindgut, and weight. Feeds with low starch are particularly helpful for ulcer-prone horses. Alternatively, high-starch diets elevate the risk for digestive disorders (National Library of Medicine), equine ulcers, and laminitis.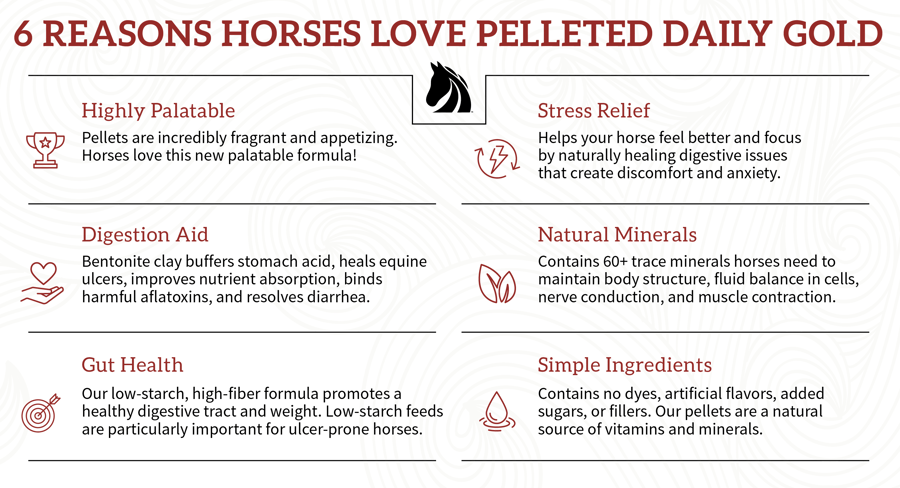 What Horses Will Benefit?
Daily Gold pellets help horses of all breeds and disciplines exhibiting the problems listed below. Want to hear customer stories about Daily Gold? Click the links to read posts and articles showing how it improved their horse's condition!
Frequently Asked Questions
We polled customers to find out what questions they had while using pelleted Daily Gold and have included the answers below. We also want you to feel comfortable using our product, so if your question isn't covered here, send us a message and we'll answer it in person.
Q. Is pelleted Daily Gold a horse feed?
Like Daily Gold powder, our pellets are a digestion supplement. They can add to but should not replace your horse's feed.
Q. How should I feed it?
This is one of many things you'll love about pelleted Daily Gold: an easier presentation and preparation. Many horse owners feel the pellets simplify the feeding process and ensure horses consume a full serving of Daily Gold—which means less stress and more peace of mind.
Serve pelleted Daily Gold on its own or with other pellets or feed—most horses will love it either way. Feed 1 pound (about 3 cups) daily to full-grown horses, and ½ pound (1 ½ cups) to small horses and ponies. We recommend wetting the product before feeding, as more moisture content in a horse's diet is always a good idea!
Q. Can I feed Daily Gold pellets and powder?
It's a good question. If your horse is equally happy to lick up Daily Gold powder or munch on the pellets, it's absolutely fine to alternate feeding both products—and there may be times it makes sense to do so. For instance, some customers find their horses eat pellets more readily than powder on the road when stress and anxiety is higher.
You shouldn't, however, feed both the powder and pellets simultaneously or at multiple feedings during the day. Choose one Daily Gold digestion supplement to feed your horse once daily.
Q. Can I use the pellets with the Stress Relief Syringe?
You bet. It's completely safe to feed the pellets and occasionally administer Daily Gold paste to your horse before or after events or stressful situations.
Q. Can I feed the pellets with other Redmond products?
Not only is it safe to feed Daily Gold with other Redmond products, but we recommend it! Offering your horse Daily Gold, one loose mineral salt from our Crushed lineup (original, with Garlic, or Daily Red), and a free-choice Redmond Rock/Rock on a Rope will help achieve optimum health results.
You may also be wondering if your horse will receive too many minerals if you feed multiple products. Rest assured the 60+ minerals present in Redmond supplements are in trace, or very small amounts. Combining products as recommended will not create mineral toxicity. You shouldn't, however, simultaneously feed your horse two Crushed salt products, as this may cause overconsumption of salt.
Q. What is ProFiber Plus?
There's just one ingredient in ProFiber Plus: alfalfa. Alfalfa hay has two distinct components: leaves (32% protein low fiber) and stems (12% protein high fiber). ProFiber Plus is created through patent-pending technology which fractionates the hay and removes the leaves to provide healthy alfalfa fiber. ProFiber Plus is 96% alfalfa stem—gut healthy fiber.
Once the stems have been isolated, Daily Gold is then precisely metered and mechanically mixed with ProFiber Plus and introduced to a pellet mill to create the high-quality, fragrant pellets you see and your horse loves.
What are Others Saying?
Before launching this product to all of our customers, we wanted to learn exactly how Daily Gold pellets compared to the efficacy and palatability of Daily Gold powder. So we made it available to our Redmond veterinarian and members of Trainer's Circle. (Not a member yet? Check it out—it's free to join!) Here are some of their comments:
"Pelleted Daily Gold is an excellent supplement for picky eaters! Added fiber is beneficial for digestion, while Daily Gold helps improve hair coat and maintain a calm and perky attitude. This product is fantastic for those slightly overweight horses needing an all-in-one supplement without feeding more grain." – Jessica Huntington, DVM

"My horse has always been the pickiest eater there is until it came to Daily Gold pellets. It has been an absolute game-changer for her! She would never eat grain and would even go off hay for extended periods. The pellets have changed all of that and brought her completely around." - Ashley Thompson

"This Redmond product is exactly what the horse industry needed to make sure horses are ingesting Daily Gold. My horses love it, and I have peace of mind knowing they're consuming it all. Product of the year award!" – Janet Lewis

"We love Daily Gold pellets! My picky eater loves the alfalfa base, and these are so easy to feed at times of stress. Daily Gold always stops stomach issues like loose stools and keeps my horses calm, relaxed, and ready to focus." - Bridget Helms

"The pellet size is perfect and it smells delightful!" - Megan Green

"I absolutely love the Daily Gold pellets. I tried an ulcer medication and Outlast by Purina; neither made a difference. Pelleted Daily Gold has made a huge impact. My mare never tries to bite me when I cinch her anymore and she has only been on it for a month." - Amanda Childers
Ready to Try Pelleted Daily Gold?
We hope we've answered your questions about the effectiveness, benefits, and application of new Daily Gold pellets. If we haven't, let us know! We're interested in your questions and feedback.
You and your horse will love the ease and palatability of this product—plus the natural digestive support it provides. Pelleted Daily Gold is affordable for you and will help your horse feel calmer, healthier, and perform better. Click below to purchase now in our online store!
Learn More
There are many things you can do to help your horse maintain a steady gut. Read what they are in this blog: How to Keep Your Horse's Gut Healthy.
What makes Redmond bentonite clay so effective at improving equine digestion? Learn in this blog: Is Bentonite Clay Safe and Beneficial for My Horse?
Copyright © Redmond Equine. All rights reserved.