Introducing Maria Lamb – Olympic Speed Skater
Did you know Redmond sponsors Olympic athlete Maria Lamb? As one of our many partners, Maria Lamb is training and preparing for the Sochi Olympics in 2014 representing the US in ice speed skating. She spends more time on ice skates than on a horse, but she uses our Real Salt (our food grade salt) for the same reasons your horse needs Redmond Rock: electrolyte replacement, increased energy and mineral support. If you appreciate excellence or Olympic determination, read about Maria's training and preparation in this week's blog post.
An End and a Beginning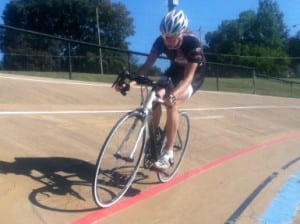 It's that time of year again; when the leaves start to fall and the air turns crisp. It's the end of summer, but it's the beginning of what I have spent the entire summer preparing for. The reason for all the countless times I rode my heart out up a mountain, what I used to get myself through endless dry land workouts, survived hours in the weight room for, and what I kept in my mind as I pushed myself to my absolute limit on the ice, is almost here. It's almost time to race!
Summer
I have had a wonderful summer. I can honestly say I have never put in as much work as I have this summer. I have ridden my bike faster and harder than ever before, reached new max weights in the weight room, hung onto the guys in workouts on the ice I've never been able to before, and skated harder and faster laps in training than I ever have. I don't have time to recount all the wonderful memories I have of training this summer, but some of the highlights follow.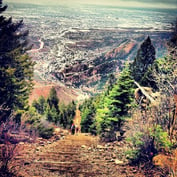 At the first training camp of the year in May I won a team "race" up the Manitou Springs Incline. A trail of seemingly endless railroad tie steps, it is the remains of a former incline railway that gains over 2000 ft. of elevation in under 1 mile. I felt my legs were going to turn to jello, my lungs would explode and I was going to puke, but I loved it! I got to ride my bike on a velodrome for the first time ever. There was a day on the ice we had a set of 50 laps, or 20k on ice, (after a set of 25 "warm up" laps) two of the best distance guys and I were the only ones to make it through the whole set. I raced Shani Davis (one of my best friends and also one of the best speedskaters of all time) up a mountain on my bike every Saturday morning this summer. And one morning—a morning that neither of us will ever forget—I almost beat him! I have had the nickname of "Lamborghini" for years, and a few weeks ago I finally got to see one in person (and actually sit in the driver's seat!). Followed by a ride in a Ferrari at breakneck speeds around a track! The only adrenaline rush that can compare would be what I get on the ice when my skating is totally on. And then there was this 5k interval ice workout. I'm not sure I can really put into words what I felt and the places I took myself to, but I went to places that I have never been before. I pulled more out of myself than I knew was possible. I hurt so bad I almost wanted to die, just so that it would end, but somehow my legs kept going. And yet, in some strange twisted way, I loved every minute of it. I have so many fantastic memories of all of the wonderful, crazy, insane things I did this summer. I don't ever call things epic, but this was a pretty epic summer. I can't say I loved every minute; there were a lot of crazy good days, but also days that I hurt and suffered. Days I just wanted to give up, go home and curl up in a ball, forget I ever wanted to skate, and never move again! But the downs are what make the ups so good. And on the whole, it has been a wonderful journey. If I live to be 100, I will never forget it.

Summer is over and the racing season is about to begin. It's time to see just how far a wonderful journey and an epic summer can get me! And that thought is both terrifying and exhilarating. It can be scary to realize that it is time to put everything to the test and see if my work will get me to where I have gone in my dreams. But life would be awfully boring if I knew what the future held. So all I can do is trust myself and what I have done. And regardless of where it gets me, I know in my heart I have given this dream everything I had, that I have done my absolute best. And in the end that is what I value most.
Maria trains using Redmond Re-Lyte. You can find Re-Lyte and other great Redmond products here. To find products for your horse visit us at our Redmond Equine store.