Jec Aristotle Ballou, a Team Redmond member, and her companions Melissa Montgomery and Courage competed in the 43rd World Ride & Tie Championships in Fort Bragg Ca this August. Read about their adventures in this fascinating account, posted by Jec. We look forward to her account next year!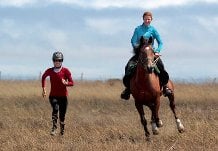 Jec with Melissa on Courage
Ready, Set… Catch up!
The 43rd Ride and Tie World Championships ended up as one of those events that gets labeled a learning experience. In spite of being predicted to win a top 3 spot, my teammate and I—while indeed setting a blistering pace—committed the most rookie of mistakes. The eventual result was a much lower than hoped for placing, but a comeback for the record books on the second loop. In the words of Ride and Tie icon Steve Shaw, our speedy team was left with a big case of "would've, could've, should've."
This is how it all shook out.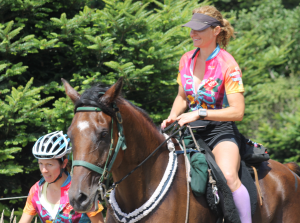 By mile 18, we led the field of 25 teams with a full five minute lead approaching the 21-mile vet check. After the vet would be a 14-mile loop in which we planned to pick up our already fast speed and maybe zoom in to history as only the second female/female team to win the championship. Would've, should've.
Here I hopped off our mount Courage, tied him beside the trail and took off on foot, continuing a steady pace of leap-frogging that had flowed seamlessly until now. Somehow, though, my partner passed him without seeing him or took a different trail or… we're not sure. Suffice it to say, this is something you never hope or plan on in a race where all three team members are needed.
Just before the vet check, my teammate caught up to me and both of us, discovering that the other one did not have the horse, let loose with a battle cry of swear words. I charged down the trail backtracking our route to find Courage. Immediately, however, my genetically poor sense of direction led me deep in to the Mendocino forest and down a ravine where I spent the next 60 minutes charging up and down an eroded embankment. Thighs cramped, dehydrated, and fairly demoralized, I wanted to quit the race by then but couldn't get myself un-lost to do so. Finally by the end of an hour, I calmed down and traced my way back to Courage still standing to the tree where I tied him. He woke from his nap, helped me onboard, and galloped down three miles of singletrack to the vet check.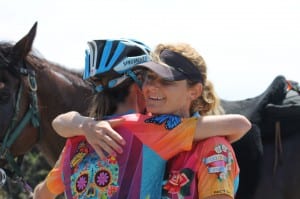 We were now not just dead last in the race, but laughably far behind even the slowest teams. In 25th place with 14 miles to go my teammate and I resolved to keep racing instead of dropping out. She took off on foot at an Olympic speed as I cleared Courage through the vets and re-took the course. All three of us found gears of incomprehensible tempos. Somehow I got my thighs to un-cramp as Courage sailed up and down hills like a perfectly aimed missile. Charged up with the hope of redeeming ourselves, all three of us flew through that final 14 miles in just over 1 hour. Miraculously, we finished 9th place overall. We like to think if we had had another 10 miles, we might have reeled in the entire field.
Would've, could've, should've.
Next year, we will find out.