A Redmond Story: Rebecca's Show Horses Were Showing Signs of Ulcers
July 16, 2021
Most performance and show horses have busy schedules and routinely experience new environments that can contribute to feelings of stress. How each horse copes with and manifests anxiety is unique, but some common symptoms and behaviors include equine ulcers, digestive issues, loss of appetite, a sour attitude, and poor coat condition.
Rebecca Morris is a hunter/jumper-certified trainer who manages show horses that perform at high levels. She uses Redmond Daily Gold to keep their guts healthy and their anxiety down. Keep reading to hear her story and learn how Daily Gold can help your performance horse.
---
How Rebecca Keeps Her Horses Healthy and Ulcer-Free
I'm very blessed to do what I love for a living—training and riding hunter/jumper horses. I'm a United States Hunter Jumper Association-certified trainer and manage a riding academy where our students compete at A-rated USEF shows.

Although I love seeing success in the show ring, my greatest moments of joy are when I make a breakthrough with a horse, especially one deemed difficult or a problem. My ultimate mission is to create happy, healthy, well-adjusted, willing athletes and partners for not only myself but other riders.

Show horses, however, like other horses, are subject to stress. Recently I was managing a group of horses that were experiencing stress from training and competition and showing symptoms of GI irritation.

My own personal show horse, May, was also displaying sourness while girthing and weakness off the right side. She was having trouble holding weight, her appetite was low, her coat dull, and her energy level was not where I felt it should be.

I treated my mare for ulcers then put her on several GI support supplements, but none of them maintained a comfort level for her. I then started her on Redmond Daily Gold. I liked that it was easy to administer in her morning feed and she ate it without protest—despite being super picky!

After ten days on Daily Gold, May started eating more than I'd ever seen her! Her weight immediately started to bulk up, and the quality of her coat improved, as well as her energy level. Within 30 days her sulkiness while girthing improved and she became much more willing to engage and work off of her right side.

Since starting May on Redmond, she's gone on to successfully compete in jumper divisions up to the 1.10 meter. She's now comfortable enough that I can put beginner riders on her, and she functions as one of the horses in our lease program, helping to teach advanced riders the ins and outs of the jumper ring.

I use Redmond Daily Gold now for all of my horses. Daily Gold has made a positive difference. It maintains its effectiveness, helps my horses stay comfortable and show long-term improvement, has no side effects, and doesn't interfere with other medications or supplements I feed.

- Rebecca Morris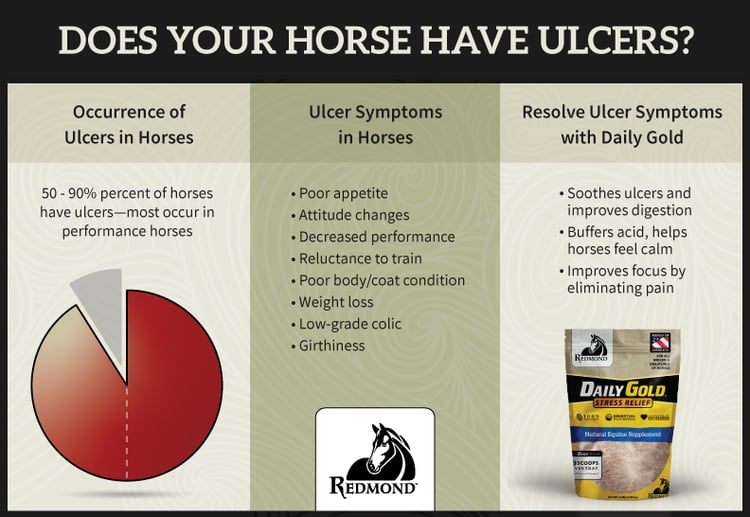 Daily Gold Delivers Stress and Equine Ulcer Relief
Is your performance horse exhibiting stress or symptoms of ulcers? Like Rebecca, you can help your horse find relief with Daily Gold. Our all-natural bentonite clay digestive aid helps horses by buffering excess stomach acid, binding and removing toxins, improving appetite, and healing gastric ulcers. It helps your horse maintain a steady, healthy gut, which lowers stress and allows her to keep performing at her best. Daily Gold is simple, affordable, and never loses its effectiveness. Plus, it also naturally contains 60+ trace minerals to improve overall horse health. Click below to try a sample pack today!
Learn More
© Redmond Equine. All rights reserved.