A Redmond Story: How Taylor Got Her Dehydrated Horse to Drink
September 14, 2023
Did you know a horse needs at least 10 gallons of water a day to stay hydrated? And more if they're working hard or lactating. A horse that's dehydrated is losing more fluid than they're taking in. If they're refusing to drink, a horse can experience dangerous levels of dehydration in just a couple of days.
Taylor's young horse Jin wasn't drinking enough and began showing early signs of dehydration. Taylor was anxious to get her horse hydrated and found the answer in Redmond Rock and Rein Water. Keep reading to learn their story and find out if your horse could benefit from a Redmond hydration supplement.
---
Meet Taylor and Her Spunky Filly Jin
My filly Jin is my dream horse. I saw her on Facebook in an auction and knew in a moment I had to have her. I placed a bid, won, and then made the eight-hour roundtrip to pick up my new horse.

Since then my journey with Jin has been a trying but rewarding experience. She was totally unhandled when I got her, but she's unbelievably smart and has picked up training quickly. The first time I saddled her, one would have thought she was an old been-there-done-that horse!

Not long ago, however, my filly was acting like an old been-there-done-that and depressed horse. She was very lethargic. She wasn't drinking enough, and I was having trouble keeping her hydrated.

In Mississippi, we have brutal summers, and it's critical our horses stay hydrated. Most of the time when I'd put water in Jin's stall, she wouldn't drink even half of it over the whole day—and that was during 95-plus degree weather.

It was terribly frustrating! I tried feeding different equine electrolyte supplements, loose salt, and horse salt blocks. Nothing helped... until I found Redmond products. They were the answer!

I gave Jin free access to a Redmond Rock mineral lick and added Rein Water to her water bucket. She took to both, and I was so relieved to see her drinking more each day.

Life with Jin is more enjoyable now. She's staying hydrated, has her spunk back, and is once again acting like the three-year-old she is. We're having wonderful training sessions, and she's listening better and much more alert.

In a few years I'll retire my older mare. Jin is now on track to become my next ranch and all-around horse when that happens.

—Taylor Floyd
Recognizing the Signs of Dehydration in Horses
How do you tell if a horse is dehydrated? Like Jin, lethargy can be an early sign. Other more clinical dehydrated horse symptoms include:
Fast heart rate
Increased respiration
Slow capillary refill
Loss of skin elasticity
Dull eyes
Dry gums
Keeping an eye out for these and more subtle signs can help you take prompt action if dehydration is suspected.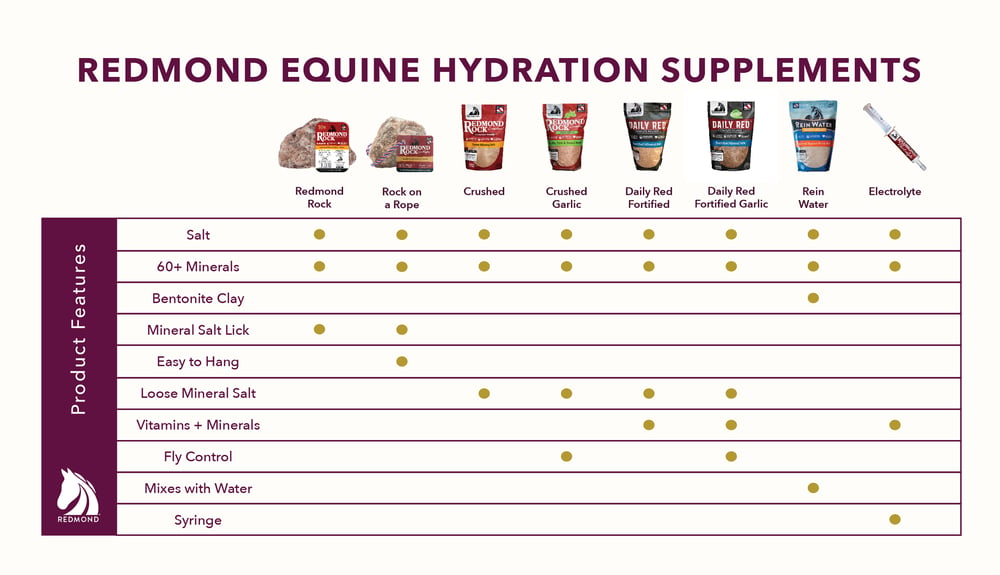 Prevent Horse Dehydration with Redmond Products
Redmond horse hydration supplements are natural and effective. Each contain mined sea salt and 60+ trace minerals and electrolytes horses need to stay hydrated and improve health. Whether you need a salt lick, loose salt, natural water flavor additive, or an electrolyte, we have you covered. Click below to browse our products, or buy a hydration sample pack to try them all! Redmond gives you the power to get your horse drinking naturally.
Learn More
© Redmond Equine 2023. All rights reserved.