A Redmond Story: Why Shelby Switched Her Horse Block to Loose Minerals
March 25, 2021
Salt blocks and mineral licks provide essential salt and critical electrolytes that help horses drink adequate water and avoid dehydration. However, some horses ignore their salt block, and others require more salt and minerals than a block can provide.
Shelby Suelzle encountered this problem with her Arabian. He wouldn't lick his salt block even when exercised hard. Shelby worried about dehydration and went in search of an alternative to a block. She found it in Redmond Rock Crushed loose salt for horses. Read more of her story below!
---
Meet Shelby and her Arabian K-Love
I've owned my gelding K-Love ++/ since 2011. He's now 15 years old and is a very well-behaved, respectful Arabian. He's giving an excellent name to the Arabian breed in Norco, California, an equestrian-oriented town where the bar is set high with horse training.

K-Love and I do a lot of groundwork, as well as trail and street riding. I love being outside and feel peaceful when we're on the trail together. We also participate in dressage, which is an exciting and challenging discipline for me. For K-Love, who has a club foot, it promotes needed strength and balance that makes him more comfortable to ride on the trail—which is where we'll eventually end up when we're both old!

Back in 2011, when I first purchased K-Love, I noticed my horse wasn't licking his salt block much, even on days of heavy riding. I believe salt is best for horses after a workout as opposed to giving an electrolyte every day. So when K-Love wouldn't use his salt block, I became concerned he wasn't staying properly hydrated and receiving necessary minerals. I knew we needed a quick solution.

It didn't take long for me to get to Inland Vet Supply and find the answer to our problem in a 20-pound bag of Redmond Rock Crushed loose mineral salt. I've been feeding Redmond salt every day since instead of an electrolyte and I've never had a colic situation.

I've told as many people as possible how great your product is! I love the natural state of Redmond Rock Crushed loose salt and that it's in small granules so horses don't burn their tongues trying to get enough. I also love you can mix it right into the bucket of whatever feed solution your horse receives.

During our years together, K-Love and I have had a beautiful journey of fun trail rides and competitive dressage. We're now participating in the FEI (Fédération Équestre Internationale) levels.

Thanks to Redmond, I don't worry about K-Love after a workout. I give him the Crushed loose salt he needs, and feel confident his body is being well-hydrated to support his joints, stomach, and muscles, preventing damage and low energy.

Today my 15-year-old Arabian continues to feel excellent and have great energy. We respect and do our best to listen to one another. And we continue to challenge each other to push a little harder and do things we never imagined... like piaffe and passage!

—Shelby Suelzle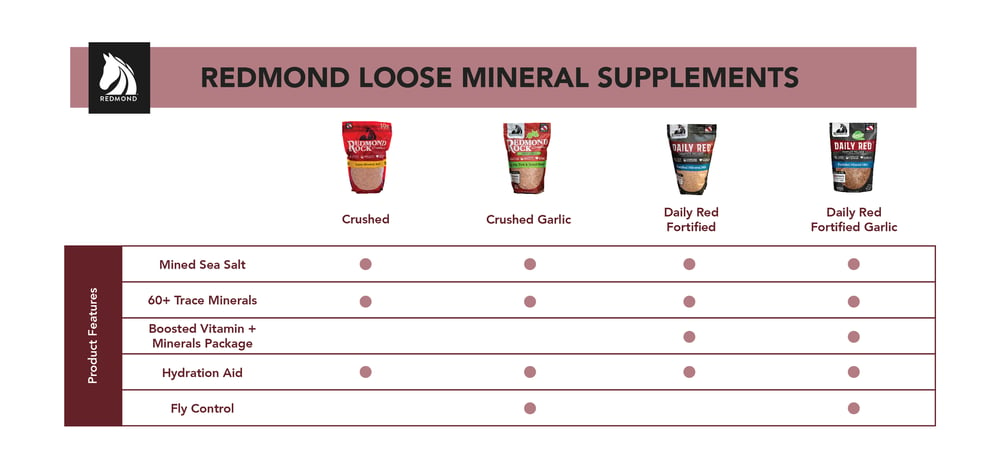 Why Feeding Loose Salt & Minerals Makes Sense
Horses lose a considerable amount of minerals and electrolytes through heat, sweat, and exertion—often more than can be replaced with a mineral or salt block. Redmond Rock Crushed and Daily Red loose minerals are ideal for all horses, especially those that work hard, travel often, or need encouragement to drink. They provide an excellent hydration trigger and deliver the essential salt and trace minerals horses need to stay healthy. Click below to shop our loose minerals today.
Learn More
© Redmond Equine 2023. All rights reserved.