A Redmond Story: Why Sue Changed Her Horse's Himalayan Salt Lick to Redmond Salt
July 1, 2021
As horse owners, we worry whether our horses are getting enough water, and wonder how to get them to drink more. We know a dehydrated horse is a potentially serious problem that can lead to dreaded conditions like tying up and colic. So how do you get a horse to drink more water?
Sue Collier's horse wasn't drinking enough, and she worried constantly about colic. She solved the problem by switching to a Redmond Rock on a Rope. Read her and her horse Hurricane Hoss's story below about improving his hydration.
---
Himalayan Salt Wasn't Keeping My Horse Hydrated
My gelding and riding buddy Hurricane Hoss isn't just a horse—he's my friend. I've owned him for two and a half years but had to wait a long time before that for my friends to finally decide to sell him to me. Hurricane and I are now partners, and there's nothing I ask that he won't do.

Hurricane struggles to stay hydrated, however, and I have to add a lot of fluid to his feed to help with that. He just isn't a big drinker—even in hot weather and with electrolytes added to his water. It's a worry, and I'm always concerned about him suffering from impaction, especially during the winter months.

Hurricane has always had Himalayan salt hung on a rope in his stall, and loved it… but he still never drank much water. Not long ago I went to pick up another Himalayan salt, but the tack store didn't carry any. They did, however, have Redmond Rock on a Rope.

Why not, I thought, I'll try it. WOW is all I can say. Hurricane loves his Rock on a Rope and is now drinking far more water than before! He's staying hydrated and I'm not worrying about impaction. It's Redmond Rock for me and Hurricane from now on. Thank you!

— Sue Collier
Why A Dehydrated Horse Is at Risk for Impaction Colic
Impaction colic is caused by obstructions in the bowel from dry, firm masses of feed, dirt, or sand. Impaction colic can be very serious, or even fatal, and usually requires veterinary intervention. The primary way to prevent impaction colic is to ensure your horse is drinking enough water. You can increase your horse's water consumption by providing a quality salt.
This Michigan State University article by Karen Waite states mature horses should consume 10-15 gallons of fresh water daily, and more in hot weather or when horses are working. "Water will both aid in the prevention of dehydration in the horse and keep feed moist, thus decreasing the risk of impaction colic," Waite said. "Making sure there is salt available or top dressing loose salt on grain will also typically keep horses drinking."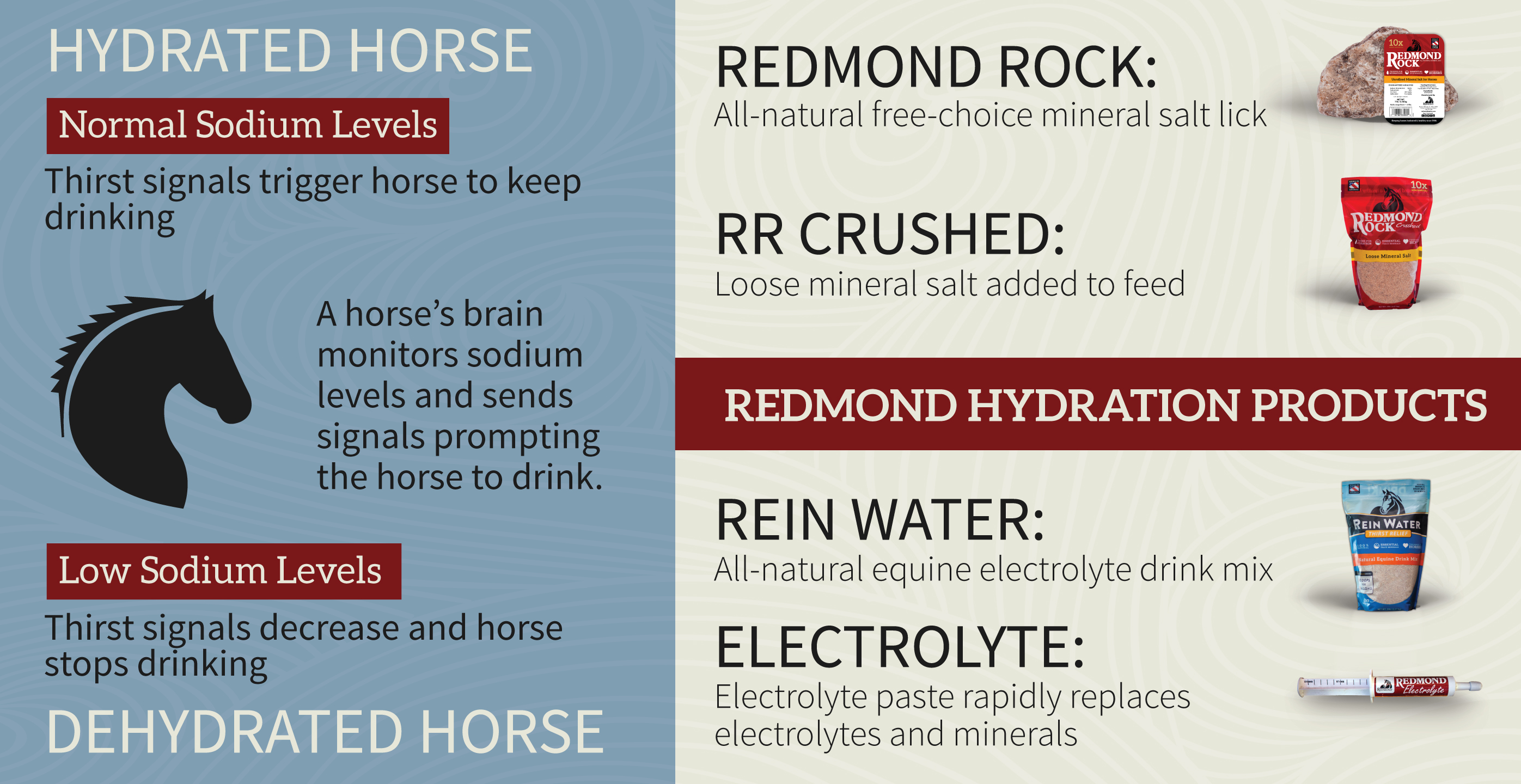 Redmond Salt Gets Horses to Drink More Water
All of our Redmond Rock products are mined from a Jurassic Period mineral deposit in Central Utah and packaged right here in the USA. Redmond salt contains natural equine electrolytes and 60+ trace minerals (see this table for a complete mineral analysis) to keep horses hydrated and healthy. We've heard from hundreds of customers who've helped their horses drink more with our salt lick and crushed salt products. Click below to purchase Redmond Rock, Rock on a Rope, Redmond Rock Crushed, or Rein Water today! Trigger your horse to drink more with Redmond salt and avoid serious issues like dehydration and colic.
Learn More
Is Redmond Rock better for horse health than Himalayan rock salt or a manufactured salt block? Read this post to find out.
Copyright © Redmond Equine. All rights reserved.