Your Questions Answered About Redmond Rock Salt for Horses
October 20, 2023
Considering buying a Redmond Rock online or from your favorite feed store? You're making a great choice! All-natural Redmond Rock is no ordinary horse lick. With essential salt, full-spectrum sea minerals, and a preferred taste, your horse will lick it up and experience the benefits of better hydration and wellness.
If you have questions before buying, we have info in this blog to help you learn about and get the most from your rock. Or if you're still shopping your mineral lick options, read the FAQs below to find out if a Redmond Rock is right for your horse.
---
Quick Facts About Redmond Rock
---
What Minerals are in a Redmond Rock Salt Lick?
A full spectrum of 60+ naturally occurring sea minerals exists in Redmond Rock. (Check out the complete guaranteed mineral analysis.) Sodium chloride (salt) makes up approximately 93% of the mineral content.
Dozens of other minerals appear in smaller amounts, including trace electrolytes that help with hydration. These minerals are chelated, or organically attached, to nutrients derived from ancient seabeds, making them easy for horses to absorb. That ensures the minerals go to work, not to waste.
Where is Redmond Rock From?
Our miners extract Redmond Rock from deep within the Earth in Redmond, Utah—a tiny town with lots of goodness! Redmond's mineral deposit is a pristine relic of the ancient Sundance Sea dating back to the time of the dinosaurs.
Every rock is sold in the same unrefined state it existed 600 feet underground—with the same 60+ sea minerals naturally found in the rock. It's mined, packaged, and shipped directly from our site to your barn.
Curious about Redmond Rock's origins and the journey it goes through to get to you? Come visit us and take a Redmond mine tour! We'd love to meet in person and show you around.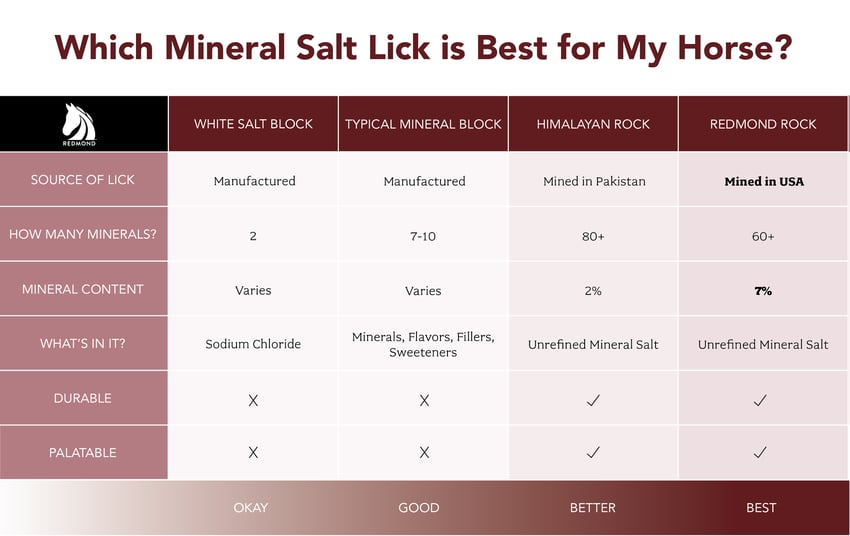 Is Redmond Rock and Himalayan Salt the Same?
When it comes to horse salt rocks, Redmond Rock and Himalayan are superior options to blocks. Both have dozens of essential trace minerals balanced by nature. And both are organically attached to nutrients derived from ancient seabeds, making them highly bioavailable.
So, is Redmond Rock and Himalayan salt the same? Is one a better choice? That depends on you and your horse's preferences. However, we believe Redmond Rock offers some unique advantages:
Mined in Utah. Every rock is mined from our protected mineral deposit in Utah, USA. This ensures a reliable source of high-quality salt rock mined close to home.
More mineral content. Redmond Rock has an average composition of 93% salt and 7% mineral content. Himalayan averages 98% salt and 2% mineral content. By choosing Redmond, your horse receives more of what matters.
Is Rock Salt Safe for Horses?
We believe nature has it right, so keeping our supplements simple is a priority. All Redmond products are free of fillers and artificial flavors, and every ingredient has a purpose. Not only is Redmond Rock completely natural—we don't add a thing to what nature created—but it's also nutritious and preferred by horses. Our rocks are entirely safe and recommended for all breeds and life stages.
How Long Will a Redmond Salt Rock Last?
Redmond Rock is made to last longer than typical pressed blocks you find on feed store shelves. Mother Nature applied tons of geological pressure over millions of years and infused dozens of trace minerals into the rock.
The result is a dense, durable product that can handle wet weather, humidity, and your horse's enthusiastic licks without crumbling or vanishing in a hurry. Pound for pound, Redmond Rock also provides longer use than pressed blocks.
To help your rock last its longest, put it in a bin to keep it out of mud and puddles and/or in a covered spot protected from rain and moisture. You can also try Redmond Rock on a Rope! Tying it to a fence, stall, or trailer will keep it elevated and dry. Rock on a Rope also works great as a stall enrichment and boredom buster.
Expected Longevity
Horses consume Redmond Rock at different speeds. Like people, a horse's appetite and need for salt and trace minerals increases or decreases based on:
Weather and temperature changes
Workload
Travel
Feed changes
Water availability
Boredom
Stress
In general, you can expect Redmond Rock to last one horse:
3-5 pound rock: 1-6 weeks
7-10 pound rock: 1-3 months
Does Redmond Rock Have Selenium?
A typical Redmond Rock contains approximately .23 ppm of selenium. That's not much. So, while Redmond Rock is not a significant source, Daily Red Fortified is! Try our loose salt if you're looking for a supplement fortified with natural selenium and other minerals and vitamins.
How Much Iron is in Redmond Rock?
Some express concern that because our rock salt has red and pink tones, it must contain a lot of iron for horses. Let's look at the facts.
An average serving (4 Tbsp) of Redmond Rock Crushed loose salt (same as Redmond Rock, just crushed) provides 600 ppm of iron. That's 17.04 milligrams. Horses need a minimum of 500 milligrams of iron daily.
To put that in context, the iron content in 4 Tbsps of Redmond Rock/Crushed salt is 3.4% of the suggested daily allowance for horses. And horses consume far less than that daily from a rock.
Oh, and that pinkish color? That comes from the dense constellation of minerals your horse benefits from. So, celebrate the pretty hues and put your worries to rest! Too much iron should not be a concern when feeding Redmond Rock.
Still have questions? Read this blog for a deeper dive into iron in Redmond products.
Can I Feed My Horse a Redmond Rock and Loose Salt?
First off, yes, not only can you feed a loose salt with Redmond Rock, but we (and equine nutrition experts) recommend it.
The National Research Council suggests an average 1,100-lb horse at rest needs at least 25 grams of salt per day. That's approximately 1.5 tablespoons. For active horses, the requirement shoots up substantially.
At Redmond, in addition to a rock, we recommend top-dressing 4 tablespoons of Crushed loose mineral salt on feed. (Adjust serving up or down based on your horse's activity levels.)
Our loose salt helps horses receive a complete serving of salt and minerals daily. And a free-choice Redmond Rock allows horses to supplement additional needs as their days demand.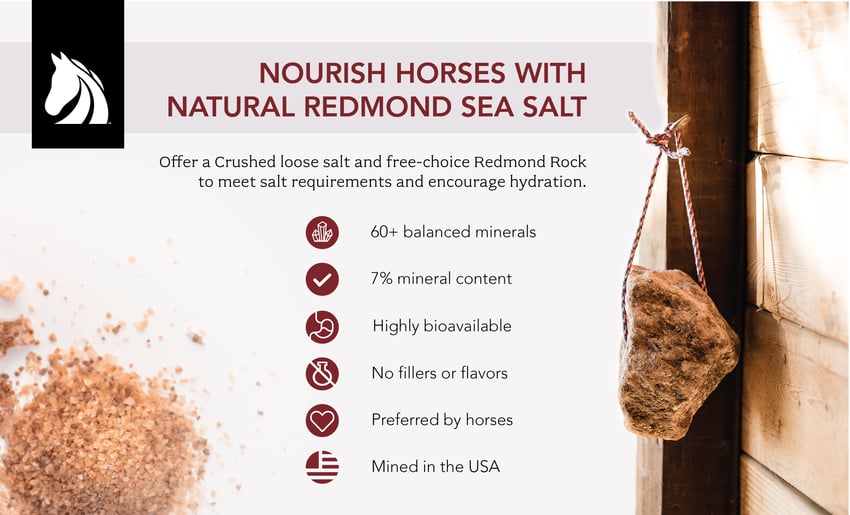 We hope this has been an informative journey into the world of Redmond Rock mineral salt. If you have more questions, reach out! We're here and always happy to help. Ready to snag your own rock? Click below to buy from our online store and start elevating your horse's health and hydration levels.
Learn More
© Redmond Equine 2023. All rights reserved.