How Long Does A Redmond Rock Horse Lick Last?
March 17, 2022
So you just picked up a Redmond Rock from your favorite feed or online store and have questions. Or maybe you're still shopping your mineral lick options and are weighing the benefits of a natural salt rock. One of the most frequently asked questions we get from new or potential Redmond Rock customers is, "How long does the Rock last?"
It's a great question—and also one that's difficult to answer with, well, rock-solid facts. The longevity of Redmond Rock depends on a number of factors. Let's cover the basics so you have a better idea of how long your Rock will last.
---
Salt Rock Durability
First off, Redmond Rock should last longer than any pressed mineral block available on your feed store shelf. It's true! The ancient mineral salt deposit your rock is mined from is buried under layers of soil and bentonite clay. The geologic pressure applied over millions of years, plus 60+ trace minerals naturally forged into the rock make it very dense—much denser than conventional pressed blocks. That means it will hold up better in wet weather, humidity, and use without crumbling or quickly dissolving.
Pound for pound, Redmond Rock should also provide your horse longer usage than pressed blocks—even though the expansive mineral profile in Rock encourages most horses to use it more often. So just how long will it last? Let's discuss some situations that may increase or decrease the longevity of Redmond Rock.
Quick Tip: Still trying to figure out which kind of mineral lick is right for your horse? Check out this blog for a head-to-head comparison of white salt blocks, mineral blocks, and natural salt rocks.

The First Rock Goes the Quickest
When you give your horse its first Redmond Rock, you may find he or she licks and devours it pretty quickly. Some horses even finish it off within a week or two. If that's true for your horse, don't be alarmed! This is quite normal. How mineral-deficient your horse is affects how quickly it licks through a rock. Generally, consumption will slow after the first or second rock, when a horse has loaded up on the trace minerals its body craves. Just provide plenty of fresh water and let your horse enjoy the first rock at its own pace.
Expected Longevity of Salt Rock
Following the initial mineral-loading period, each horse will consume Redmond Rock at different speeds. Just like people, a horse's appetite and need for sodium and other minerals increases or decreases based on many factors, including:
Weather and temperature changes

Workload

Training regimen

Traveling

Feed changes

Water changes

Boredom

Stress (yes, your horse stress-eats, too!)
Really, the best way to find out how long Redmond Rock will last is to keep it stocked and in front of your horse for at least a month. By then you should be able to gauge your horse's appetite for it. In general, however, this is how long you can expect your Redmond Rock mineral lick to last:
3-5 pound Rock lasts 1 horse around 1-6 weeks

7-10 pound Rock lasts 1 horse around 1-3 months
Extend the Life of Your Rock
External factors like rain, snow, and humidity can also affect the longevity of your rock. If your area is experiencing particularly wet weather and your rock is out in the open, it's going to melt faster. Here are a few practical suggestions to extend the life of your rock:
Put it in a bin to keep it out of mud and puddles. Also make sure the bin is able to drain any water that collects inside.
Place it under a covered area to protect it from rain and moisture.
Purchase a Redmond Rock on a Rope and tie it to a fence, gate, stall, or trailer to keep it elevated and dry. Find tips below for using Rock on a Rope.

Add a Loose Mineral Salt
So, what if your horse is spending a lot of time and effort licking the Rock and consumption levels don't seem to slow down? This is an indication your horse likely needs additional sodium and mineral support.
In Nutrient Requirements of Horses, the National Research Council suggests an average 1,100-lb horse at rest needs a maintenance dose of at least 25 grams of salt per day. That's approximately 1.5 tablespoons or .75 ounces. And heavy exercise in equine athletes increases that requirement substantially.
We recommend feeding active horses 1 to 2 ounces (2 to 4 tablespoons) of a Redmond Rock Crushed loose mineral salt daily, given free-choice or in feed. (Serving size should be adjusted based on your horse's activity levels.) If your horse fits any of the following situations, consider feeding Crushed in addition to a free-choice Redmond Rock:
Needs additional mineral support. A horse that's not getting enough salt is as much or more of an issue than a horse that's getting too much salt. Crushed helps hard-working horses more quickly

consume the quantity of salt and minerals they need. And you can easily adjust the daily serving size to accommodate energy demands.
Not licking the salt rock enough. If your horse isn't consuming enough of the lick (or not licking it at all), adding Crushed to their feed ensures your horse gets necessary daily salt, minerals, and electrolytes.

Licking or consuming too much salt.

Occasionally you may run across a horse with a large appetite for salt. Horses are great at self-regulating salt, so this happens very rarely. However, if you do have a salt-aholic horse, switching from a Redmond Rock to Crushed loose salt is a great way to moderate intake. You can find other simple ways to decrease your horse's salt intake here.

Summary
Redmond Rock provides your horse salt plus 60+ trace minerals and electrolytes that contribute to proper hydration and health.

In general

, a 3-5 pound Redmond Rock lasts

1 horse around 1-6 weeks; a

7-10 pound Rock lasts 1 horse around 1-3 months.

Using a free-choice Redmond Rock plus Crushed loose salt in feed provides active horses a full serving of salt and minerals to meet daily needs.
Ready to buy a Redmond Rock or Crushed loose salt? Get both, plus other great hydration products, in an affordable sample pack! Use the code "hydrate" at checkout to get 50% off and free shipping with your first purchase. If you or your horse don't love them for whatever reason, we'll refund your money. Click the image or button below to give Redmond a try today!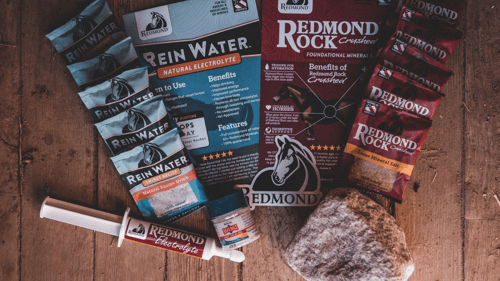 Learn More
© Redmond Equine 2022. All rights reserved.