A Redmond Story: Why This Vet Treats Equine Ulcers With Daily Gold
July 9, 2021
Many horses struggle with equine ulcers, but few horse owners can afford pharmaceutical drugs to treat them. Currently, there is one pharmaceutical treatment approved by the U.S. Food and Drug Administration for gastric ulcers in horses: GastroGard (omeprazole). GastroGard is expensive, sometimes ineffective, and many can't afford to keep their horses on it long term.
Laureen Bartfield, DVM, treated her horse's ulcer symptoms with standard pharmaceutical drugs, including GastroGard, only to have them return six months later. Learn how she used all-natural Redmond Daily Gold to get rid of her horse's equine ulcers for good.
---
Meet Dr. Bartfield and Miles Fidelis
As a vet practicing in North Carolina, I've discovered a love for Redmond Equine products both for my own horses and recommending them to clients.

Not long ago my horse Miles Fidelis developed equine gastric ulcers. I ran Miles through a gamut of standard veterinary treatment and medications, including GastroGard, ranitidine, sucralfate—and had him scoped before, during, and after treatment. Still the ulcers recurred six months later. I felt helpless—and I am a vet!

After Miles failed mainstream treatment, I placed him on Daily Gold Stress Relief. I'm happy to say Redmond Daily Gold did the trick! My horse's ulcers haven't returned in the last year, and I can finally sleep at night.

I love Redmond products! As a customer, knowing my horse is able to feel at ease makes me feel at ease. And as a vet, I know I'm giving sound, solid advice to my clients when I recommend your products. Thank you, Redmond!

— Dr. Laureen Bartfield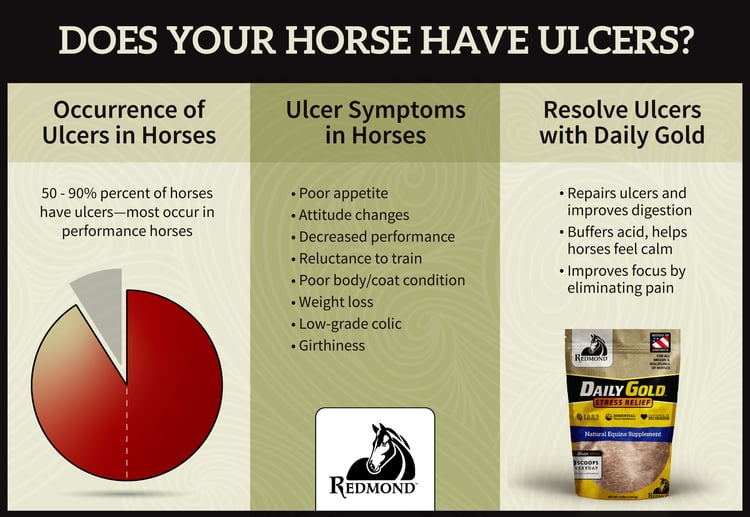 Redmond Daily Gold: Effective Treatment for Ulcers in Horses
Have you tried mainstream treatment or horse supplements that failed to provide the digestive support or ulcer relief your horse needs? Try Daily Gold Stress Relief! It's 100% natural and contains only Redmond-brand bentonite clay which buffers stomach acid, soothes ulcers and helps prevent them, and improves digestion. Our clay also has 60+ trace minerals horses need to stay healthy and improve hydration. And at around $24 a month, it's one of the most affordable ulcer treatments out there.
Click below to purchase a sample pack and try our best-selling horse supplement today!
Learn More
© Redmond Equine. All rights reserved.