A Personal Story About A Personal Journey
I have always owned, ridden and competed, and have never been afraid to jump on any horse. I didn't really care as long as I was on a horse or around a horse. I grew up and was living the dream with my own farm, breeding Quarter horses. My daughter was participating in events and we were about to embark on a reigning career with our stud.
One day I was riding in a lesson with my daughter on her instructors' horse. My horse decided he didn't want to be a nice hunt seat horse at that moment and a rodeo horse seemed to be much more fun. We made it around the arena and were halfway round again when big old Tank sent me face first to the dirt! Everything became white and I couldn't move or breathe for a few minutes. Everyone came running around and that's when I, a 42 year old woman, felt the need to cowgirl up in front of these 18 year old girls, so I picked myself up and dusted my pants off and got back on. Despite the pain in my head I finished the ride. For the next 2 weeks the pain continued and bright light was very painful. I finally relented and went to the doctor who immediately sent me to the hospital. I had a concussion and TBI (traumatic brain injury). Although it was mild, I did not realize how bad it would affect my life until a little while later. My life was about to change from everything I knew.
I was still feeding my horses and interacting with them daily with no issues, but it was when I decided to ride one day that I realized my problem. I didn't know how. I tacked my horse but when it came to me getting on him I went blank. I untacked him and put him away and never told anyone. From that point on I made excuses not to ride and everyone made excuses for me – I was just shook up from my fall, I just needed to get on. I didn't have a clue what I was doing and felt that nobody would understand because it wasn't a "bad" fall, so I didn't tell anyone.
A couple of times I tried but it just wasn't there. There was no memory at all of how to get on a horse, how to pick up a rein, what leg to use. With keeping all of this inside it gives a nice place to grow resentment – to my friends and husband who were riding and showing, whose whole worlds revolved around horses, as did mine, except now I felt more like the hired help. I pushed them all away. I even told my husband at one point that following his dream of reigning was great but that his family would not be there at the other end. It wasn't very fair at all but I was bitter and didn't know what to do – I still hadn't told anyone. This year has been very uncertain. We have been living on egg shells wondering if our marriage would make it, talking constantly of divorce and selling horses etc. I did sell my horse and all my tack.
A couple of months ago at our farm our trainer was there with my husband. Training one of our mares, they were standing in the arena and holding the mare, one of my favorite girls, I was watching from a distance and just felt myself walking towards them. Our trainer turned and saw me coming and told my husband to leave the arena. I found myself next to the mare and Dave our trainer was talking to me. I have no idea what he was saying but the sound of his voice was soothing and the next thing I knew I was on my horse. All I did that day was sit there. I was petrified, unable to move, tears running down my face and I kept telling him "I don't know what to do". All he said was "This is all we're going to do". We sat there with him talking to me until I could breathe and take one hand and pet my mare. I then got off.
I couldn't wait for him to come back! Our next lesson we took 4 or 5 steps. My biggest obstacle is me. It is very frustrating knowing what I used to do. I can see myself riding, jumping, doing dressage. But I have no clue now how to do it.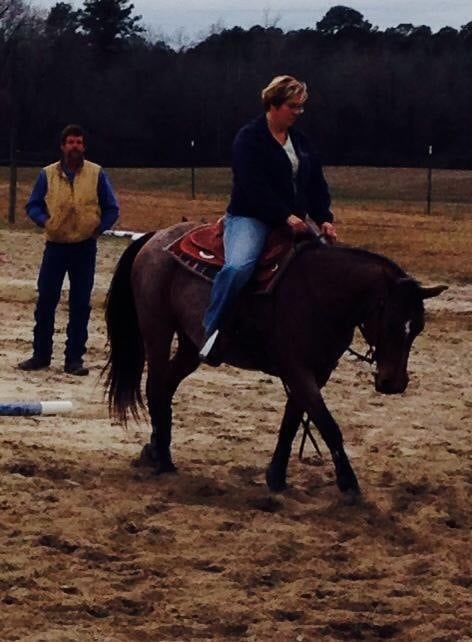 This last weekend I walked circles on my own with him standing in the center. I have a long way to go but I'm coming back – I have the hunger again. I am sharing my experience with people now and talking to my husband and everything is going to be ok. It is now a standing joke among us that my goal is to beat him in the show ring. He laughs but I remind him I always was the better rider, I just have to learn again.
I am thankful for a trainer who didn't push me but saw what I needed and waited. I hope this may help someone else, but in turn it also helps me.
Janeene Bedell