21 Horse Riding Tips for Beginners & Advanced Riders
September 26, 2022
Are you struggling to connect or compete with your horse? Worried your riding skills and horsemanship might be the problem? Wondering if you'll ever be good enough to bring out your horse's full potential? Take heart! Every equestrian struggles with challenges—even the best riders and trainers.
So... we asked a few of the best we know to share what makes them great, what they've learned along the way, and what keeps them motivated to become better. Their wisdom and experience directly follow. We hope you'll find helpful tips and tricks to encourage confidence, elevate horsemanship, and strengthen the connection with your horse. Let's introduce our pros and get their horse riding tips.
---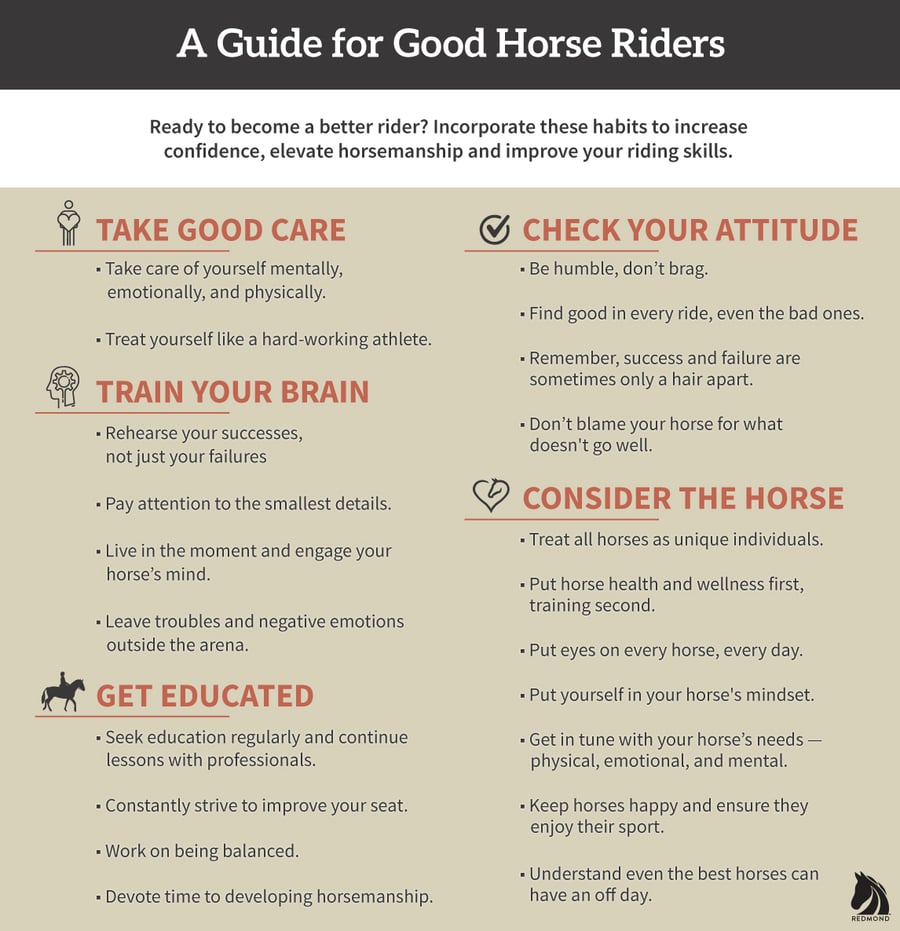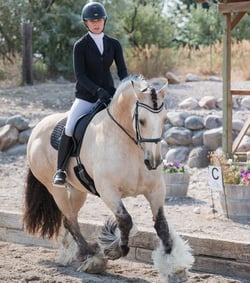 "Horses have defined my life since I was a little girl. They have healed, inspired, and strengthened me throughout my childhood and adult life."
Professional Experience: Colt starting, horse training, and Gypsy Vanner-showing by day, registered NICU nurse by night.
Competitive Experience: National titles in ranch riding, trail, English pleasure, and freestyle at GVHS-rated shows.
Words to Live By: "One of the greatest gifts you can give a horse is a good education." — Amber Russell
Good Horse Riders Do This
Take care of yourself. It is so important to be well-nourished mentally, emotionally, and physically. Horses need you to be present during your time with them.
Leave worries at the door. Training horses takes patience, precision, and focus. It is essential to leave any troubles or negative emotions outside the arena and give your horse your best each ride.
Put yourself in your horse's mindset. Learn horse psychology, body language, behavior in a herd, flight response, motivation, and how your energy affects theirs. Horses are often misunderstood, and we expect so much from them. When your horse spooks, refuses, tenses up, or doesn't respond the way you hoped—stop. Put yourself in their mindset and seek to understand.
Seek education regularly. It is so important to continue lessons with professionals more experienced than you. The exercises and expertise they can share are invaluable. Continually progressing is the key to success in training and competing.
Put horse health and wellness first. Training issues often arise when horses have an underlying health issue. I like to make sure teeth are floated, the saddle is properly fitted, bit is appropriate and fitted, farrier care is correct, diet is nutritious and balanced, ulcers are treated and prevented, stress is reduced, and soundness issues are resolved before pushing a horse past the resistance they show in training. A horse that is well-cared for can then give their best.
Q. What inspires you to become better?
Horses! Becoming one with a horse is the most incredible feeling in the world; accomplishing it takes dedication to growing and learning as a rider and trainer. Improving the connection with the horse I ride inspires me to be the best I can be.
Q. What advice would you give equestrians struggling to connect with a horse?
Enjoy the journey! Each horse that comes into your life teaches you something different. Mistakes, failures, picking yourself up and learning are all part of that journey. Every successful trainer or rider has had their share of challenging horses—but the ones that challenged me most also taught me the most. They pushed me to learn, grow, and improve. So be patient, be kind to yourself and your horse, and seek to understand before being understood.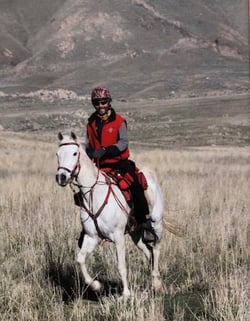 "I started riding at three years old on cold-blooded horses in parades. Didn't have a kid saddle so I couldn't reach the stirrups—but I made it without falling off! After that, I was hooked. First dressage, trail ride, jumping, then onward to endurance."
Professional Experience: Trains and conditions horses and riders through Global Endurance Training Center, offers clinics and provides full-service hoof care.
Competitive Experience: Competes in endurance races internationally. Raced at Tevis (one of the most rugged endurance rides in the world) 15 times, with five top ten finishes—including a 2nd place finish in 2022, winning the Haggin Cup for horsemanship and sportsmanship.
Words to Live By: "Ride the horse you have, not the horse you wish to have." — Christoph Schork
Good Horse Riders Do This
Live in the moment; do not let your mind wander, but continuously engage with your horse's mind.
Constantly strive to work on your seat.
Improve your balance.
Rehearse your successes as well as your failures.
Be humble, don't brag.
Know that success and failure are sometimes only a hair apart.
Understand even the best horses can have an off day.
Pay attention to the smallest details.
Keep your horses happy and ensure they enjoy their sport and partnership with their human.
Q. What inspires you to be a better horse rider?
A passion for the equestrian sport, competitiveness, and desire to be the best there is.
Q. What advice would you offer those struggling with horsemanship skills?
Over the decades, I've learned that working with a horse's mind is one of the most important aspects of horsemanship and success in competing. Connecting with the horse mentally, working in partnership, and doing everything possible to make your horse happy is a mantra I live by.
Becoming a good horse rider requires patience and constant work. It's always give-and-take with our equestrian friends. So, take your time—take baby steps, never be tardy and never hurry. Always keep a clear head and don't get frazzled by the moment.
Two important aspects I also emphasize are proper hoof care and a healthy horse gut. Both are the foundation on which good horsemanship is built—because without a healthy horse, even the best riders will not succeed. With a stable gut, ulcers stay away and the horse will love life and give you its best.
Redmond Product Tip: Daily Gold Stress Relief TM is a natural daily digestive and ulcer prevention supplement for horses. It binds toxins, buffers acid, increases nutrient absorption, and reduces the symptoms of equine ulcers. Daily Gold helps horses maintain a healthy gut year-round, including during times of training, competition, and increased stress.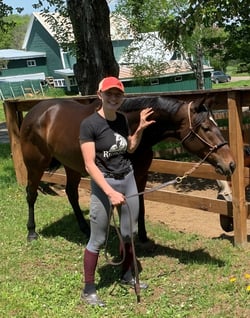 "My start in horses was a humble one. I grew up your typical 'barn rat,' working off my pony's board, spending every spare minute and then some taking in every aspect of horses—and only ever becoming hungry for more."
Professional Experience: Everything from running an equine therapy program to grooming on the Winter Equestrian Festival show jumping circuit.
Educational/Competitive Experience: National level certifications in the United States Pony Club; formal training and international coaching certifications from the British Horse Society program at the Stoneleigh-Burnham School. Competes in hunt seat, eventing, and classical dressage.
Words to Live By: "One of the biggest challenges of a horseman is the ability to control your emotions" — Buck Brannaman
Good Horse Riders Do This
Devote time to horsemanship. We should be just as dedicated to developing good horsemanship skills as riding.
Find good in every ride. There is always something positive in even what feels like the worst ride of your life. It can be as simple as eliminating another method that doesn't work for that horse; now you are one step closer to finding what does.
Do not blame your horse for what doesn't go well. It is our responsibility to set our horses up for success.
Get in tune with all your horse's needs—emotional, mental, physical, and beyond.
Treat all horses as unique individuals. There is no "one size fits all." We are responsible to find what works for each horse without damaging their confidence and work ethic along the way.
Put eyes on every horse, every day. Know each horse well enough to tell if something is off and they need to be caught up for a closer look.
Take care of yourself. We've all been guilty of not seeing a doctor or dentist in far too long while our horses see the chiropractor, masseuse, MagnaWave therapist (et cetera, et cetera) monthly. We need to be at our best to do right by our horses.
Treat yourself like a hard-working athlete. If we can't stay fit and ride in a way that makes our horses' jobs easier—or at a minimum stay out of their way and not make it harder—we have no business swinging a leg over their back.
Q. What inspires you to become better?
Horses make me want to become a better rider. The only limit to what they are capable of is how very much we still have to learn about them and how to best work in unison with them. There's just no way to ever know it all. We could learn ten new things every day from our first day to last and still know so little in the grand scheme. That drives me to never stop learning.
Q. What encouragement would you give competitors struggling in their discipline?
Never stop trying. If you are truly dedicated to developing and improving your skills and method, you're already ahead of 90% of people. Also, seek learning. I encourage everyone, even professional trainers, to seek advice and help from outside sources. There will always be someone who's thought of something you haven't or thought of a way to tweak something you have.
Next, have the courage to break away from your comfort zone. If your main resource for help is feeding you the same method over and over and it isn't working, if they're unwilling to guide you through different ways to improve or resolve issues with your horse—even if you just have a gut feeling something isn't right—find new help! You are your horse's first and last line of defense. Have the courage to step away from what you know if what you know isn't cutting it.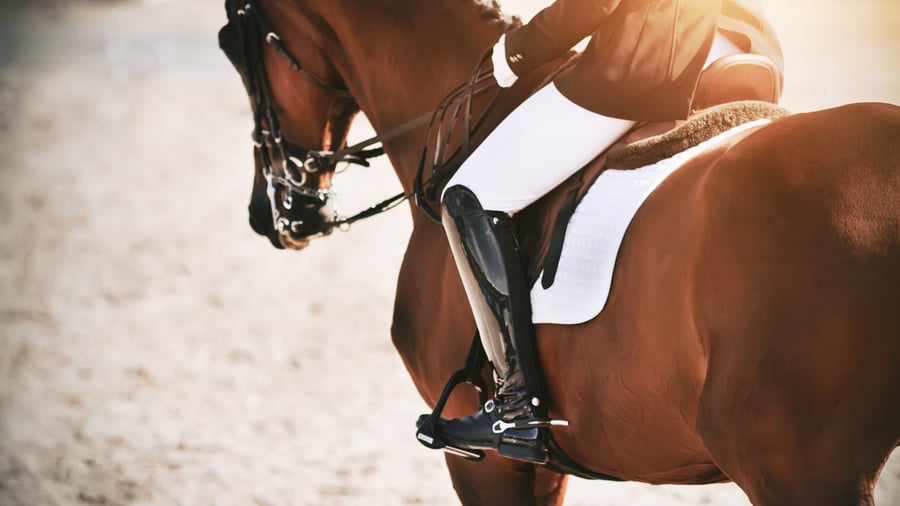 Keep Learning, Keep Riding
We know many amazing equestrians who overcome big and small challenges and learn how to bring out the best in their horses… and whose horses bring out the best in them. Our equine friends have incredible hearts to give and valuable lessons to teach us as we develop our talent and tap into theirs. So stay in the saddle, never stop learning, embrace the horse you have—enjoy the moment!—and ride on.
Did you know horse behavior and attitude are affected by what goes on in the gut? Helping your horse achieve a healthy digestive system is the foundation for a good partnership and a critical step in strengthening your skills together. Natural Daily Gold reduces digestive pain and problems, helping your horse focus better and allowing you to connect and accomplish more.
Learn More
© Redmond Equine 2022. All rights reserved.