Winter Horseback Riding Tips | Top Picks for Warm Riding Gear
January 19, 2023
Being mired in cold temperatures or snow doesn't have to put a stop to quality time in the saddle. It's important to keep horses moving during winter months, and time together helps you stay connected and on track to meet goals.
While it requires a bit more preparation and perhaps a shorter ride, winter can still provide productive experiences on the trail! Below are suggestions from vetted endurance rider Karen Chaton on how to condition horses, dress for cold weather, and ensure your wintry ride is safe and enjoyable.
---
Quick Content Guide
---
Karen's Pointers for Riding & Working Horses in Cold Weather
If you live in an area with real winters, you know riding this time of year is challenging. It's hard to get in good rides, and not just because of decreased daylight hours. The weather can make it difficult to venture out to the barn to feed, let alone tack up for a two-hour ride. However, riding horses in winter is possible—and even enjoyable! Here is what years of training in cold weather have taught me.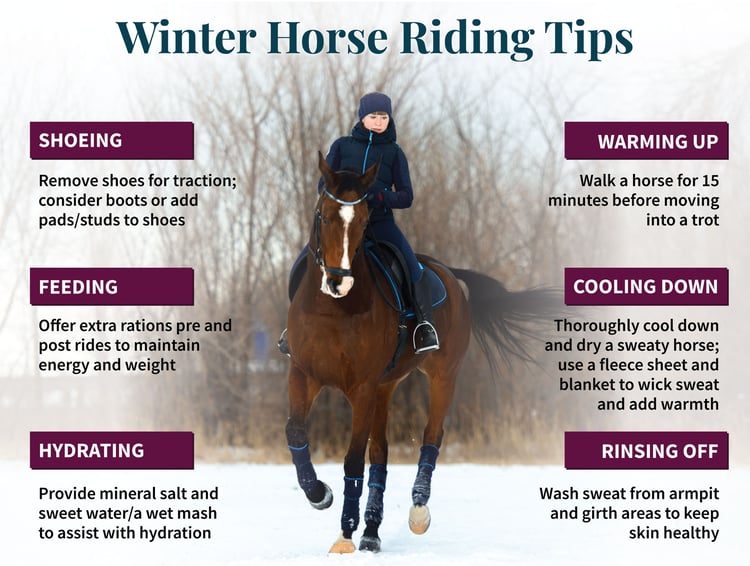 1. Evaluate Horse Shoes in Winter
Generally, a bare hoof is safer in winter than a shod one. Going barefoot gives horses in snow and ice more traction. If shoeless, trim hooves every four to six weeks to reduce ice and snowpack into soles and decrease the chance of slipping.
If you keep your horse shod, consider adding shoe pads. They protect the sole from bruising and reduce snowballs and ice buildup. Studs on shoes also increase grip but can be dangerous to other horses or humans, so consult your farrier or vet about what is best.
Depending on the footing conditions, using hoof boots over bare or shod hooves can also help provide additional traction. Think of boots as snow tires for your horse!
2. Feed Extra Before and After Riding
Winter exercise burns up a lot of calories, and your horse is already expending substantial energy to stay warm. Compensate extra effort by providing additional feed rations before and after a ride. A little extra food keeps energy levels up and helps maintain body weight. I offer my horses a small wet mash while tacking up and a larger one after returning.
Karen's Winter Mash for Horses
3. Keep Horses Drinking Water in Winter
Working horses in cold weather increases the risk of dehydration since they are less interested in drinking during winter. I keep a heater in my water troughs to keep the water from getting too cold. I also provide Redmond Rocks in each stall and add Redmond Rock Crushed to their feed buckets.
OFFER "SWEET WATER" AND A WET MASH
After a good workout, before traveling, or during severe weather I like to offer my horses a bucket of "sweet water." Most horses love it, and it goes a long way in keeping them hydrated.
Karen's Sweet Water Recipe
2 cups stabilized rice bran
3 to 4 gallons of water
1 to 2 ounces of Redmond Rock Crushed or electrolytes
Stir it up. Be sure to offer plain water as well. Feel free to experiment with your horse's favorite feed in place of the rice bran.
A wet mash (recipe above) also contributes to healthy hydration. A study reported by the University of Minnesota showed horses that eat wet mashes in winter still drink the same amount of water. So, you naturally increase water intake with a wet mash, improving hydration during weather changes and sweating.
4. Warm Up Slowly
It's vital to warm up horses slowly in cold temperatures. Like us, their muscles, bones, and joints become stiff in the cold and grow more flexible with gradual activity.
It takes about 15 minutes of walking to get out to the trail from my house to ride. That is generally enough time to warm up my horses. I will add a rump rug if it is below freezing or the wind is blowing.
5. Thoroughly Cool Down and Dry a Sweaty Horse
It's crucial to slowly and thoroughly cool down a horse sweating in winter. A damp horse may quickly become chilled once exercise is over. These suggestions will help your horse cool off from winter work safely:
Plan to have a sweaty horse back to the barn by 3 p.m. Otherwise, it may stay wet for hours—often past dark if you aren't able to ride early in the day.
Cool by walking for at least ten minutes, then dismount and hand-walk for several more before removing the saddle.
If possible, dry your horse thoroughly before turning it out or putting it in the paddock or stall.
Brush or curry to fluff up the hair and remove any dirt or sweat.
While drying, lay down a fleece horse sheet to wick sweat and add a winter blanket over that. Remove the fleece sheet in an hour or two and leave the blanket on for warmth.
6. Protect Horses' Winter Coats and Skin
Skin problems often go unnoticed on horses with thick winter coats. My endurance horses are sensitive and require I keep their girth and armpit areas as clean as possible. If your partner works hard and sweats regularly, you'll also want to keep an eye on these areas.
Look at and feel sensitive skin areas every time you ride. And rather than brushing off sweat (which can scurf the skin and cause soreness), use a sponge and warm water to remove it. Simply rinsing off the armpits and girth a few times following rides will help the skin stay healthy.
How to Stay Warm & Safe While Horseback Riding in Winter
We've covered how to help horses comfortably tolerate a frosty ride. Humans should also do a few things to make the outing more enjoyable, including dressing appropriately and traveling smart.
Cold Weather Horse Riding Gear Tips
Dressing in layers is essential for any rider venturing out in chilly weather. Layers can be removed or added as the day warms or temperatures dip and will help you have a more comfortable ride. Here are a few things to consider for warmth and safety as you decide what to wear for winter horseback riding:
Wear moisture-wicking material against your skin to stay dry; outer core layer should be wind-resistant and water-repellent.
Cover head and face to limit exposure.
Pull on fleece-lined gloves that provide warmth without bulk.
Wear thermal, water-resistant riding breeches that don't restrict movement
Don insulated winter riding boots that slide easily out of the stirrups.
Add reflective gear to clothing to stay visible if out after dark.
Consider a reflective collar, chest plate, or leg bands for your horse.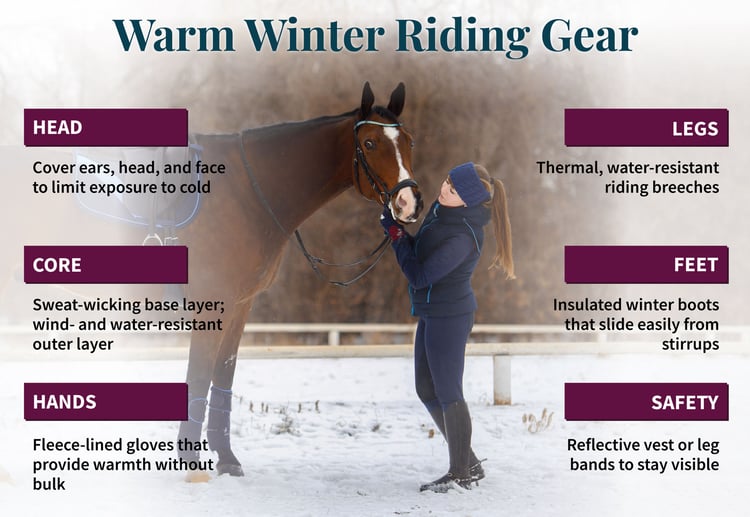 KAREN'S FAVORITE WINTER Horse RIDING GEAR
Safety in Numbers
Horseback riding with friends is always a smart decision, especially in winter. Group riding is generally safer and often more fun. Your horse may also appreciate the company of a few extra mates on the trail. And speaking of trails...
Take the Beaten Path
It's wise to keep to marked, well-used paths in wintertime. Avoid riding off-trail, in secluded areas, or through heavy snow where dangerous limbs, rocks, or debris may be hidden. Riding a horse in the snow—especially if you're plodding through deep snow—is strenuous, and you want to avoid working your horse too hard or getting it too sweaty before heading back to the barn.
Having the right gear and being prepared goes a long way to having a fun, enjoyable ride in inclement or cold weather. It can be rewarding to experience nature during the different seasons. So saddle up, stay safe out there, and enjoy your winter ride!
Redmond Hydration Products
Redmond has products to keep your horse hydrated in wintertime. Try our sample pack with a fan-favorite Redmond Rock, Crushed loose mineral salt, Electrolyte syringe, and Rein Water powder electrolyte. Use the code "hydrate" for $10 off your first sample and free shipping! If you don't love our products, we'll make it right—guaranteed.

About the Author: Karen Chaton is a multiple award-winning endurance rider with more than 38,000 miles in the saddle. VG Ben Jovi—"Jovi or Lil' Jo"—is her new mount and currently getting conditioned and trained along with Apollo, her Anglo-Arab. Karen's previous horses, Granite Chief+/ is an AERC Hall of Fame Equine with 15,790 miles and Pro Bono D "Bo" with 10,490 miles, and six Tevis completions.
Learn More
Ready to help your horse endure cold weather more comfortably? Here are 6 more suggestions to support horses through winter.
Looking for tips to become a better rider? Get 21 pointers from three professionals in different disciplines.
© Redmond Equine 2023. All rights reserved.