In this article, Stacey Kimmel-Smith—a member of team Redmond, a regular blogger and advocate of Redmond products—shares a personal story about her horse's challenges with urinary incontinence. Keep reading to discover what causes incontinence in horses and possible prevention and treatments.
---
Stacey and Harv's Story
My old horse, Harvey, turned 27 this year. He's doing well overall but is succumbing to the indignities of age, as you might expect. About a month ago I noticed he wasn't urinating like a normal horse. It was just sort of… well, dribbling out, sometimes in drips and sometimes in a stream.

Not to be indelicate, but he was "letting it all hang out" too, unretracted as he grazed in the bug-ridden, humid summer evening. He seemed perfectly happy, however, oblivious to changes in his nether region.

Calling the Vet

I called the vet in a bit of a panic, and she made the after-hours call to check on Harv. The vet did a rectal exam and found his bladder was full—"the size of a basketball" in fact! She could squeeze the bladder and make him urinate a normal stream.

This was a good sign, she explained, as it meant that there was no blockage from a mass or urolithiasis (bladder stones). She catheterized Harv and drained out the bladder.
Diagnosing the Cause of My Older Horse's Excessive Urination

Our vet diagnosed Harv with equine urinary incontinence—which is more of a symptom than a diagnosis. It is an uncommon problem in horses and can be difficult to treat and care for.

In an article (check out the full article here) on equine incontinence, Harold C. Schott II, DVM, PhD, said, "Urinary incontinence is a frustrating disorder in horses because establishing a definitive diagnosis for the cause, in the absence of other lower urinary tract or neurological signs, is difficult and substantial nursing care by the client is required to minimize urine scalding of the hind limbs."

Causes of Urine Dribbling in Horses

So what's the cause of Harv's urinary incontinence? As mentioned, it can be caused by neurological issues like EPM or Cauda Equine Neuritis. Harv has been wobbly for the past few years and has classic neurological signs like a floppy tail and wonky hind end. It seems his problem could be the result of one of the above neurological conditions.

Prognosis and Treatment

So what to do next? I worried Harv's basketball-sized bladder would rupture, but the vet assured me it won't. Apparently, as long as there is no blockage, urine will take the path of least resistance and drip out the established opening.

If Harv seems uncomfortable or shows signs similar to colic, I need to call the vet. Beyond that, there are several treatment options we cam pursue:

Harv could go on anti-inflammatories to calm any spasms (some neurological issues cause inflammation).
Go on low-level steroids for the same reason above.
The pharmaceutical drug bethanechol chloride can help the bladder contract, but it is expensive and hasn't been reliably demonstrated to help horses.
Test for EPM and treat if necessary.
Protect Harv's legs with Vaseline or Desitin, since they're splashed continually with urine.

I'm opting to treat Harv conservatively. There is a reasonably priced treatment for EPM (approximately $200/month compared to $1,200-$1,500/month for the traditional treatment). He's also on vitamin E and anti-inflammatories.

Harv is doing well now, though not improving significantly. The good news is, he thinks he's fine! He's not at all embarrassed over his condition, and he's enjoying life and getting fat on the grass.

Urinary incontinence is easy to manage during summertime, as I can hose and bathe Harv. I've just decided to take his cue and live in the moment! We have time over the summer to make plans to provide for his winter care.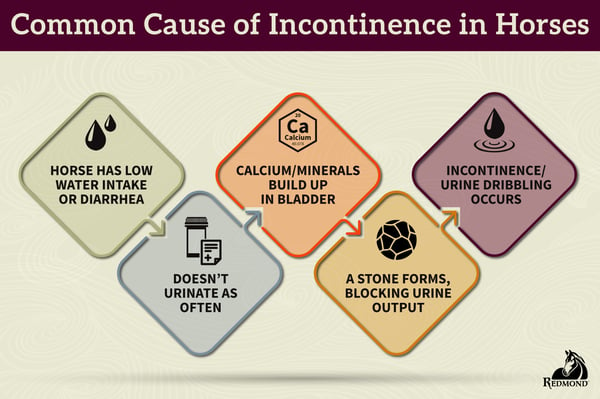 Most Common Cause of Equine Incontinence
While Harv's experience of dribbling urine isn't a common problem in horses, equine urinary incontinence does happen. The most common cause is urolithiasis, or bladder stones, in older male horses.
As stated in this article from Horse Journal, thought not conclusive, studies indicate a diet excessive in calcium, which is excreted by the kidneys, may increase the likelihood of stones, as well as urine volume and how frequently a horse empties his bladder. According to the article:
"With below-normal urine volume, as occurs with chronically low water intakes or with diarrhea, calcium and other minerals become more concentrated in the urine and the horse doesn't urinate as often."
Keeping your horse well-hydrated and preventing frequent episodes of loose manure or diarrhea may help your horse avoid urinary incontinence as he ages.
Combating Dehydration and Diarrhea with Redmond
Redmond Rock mineral licks and Redmond Rock Crushed loose mineral products are packed with 63 natural minerals and electrolytes that hydrate horses and encourage them to drink more. Our products have helped thousands of customers keep their horses hydrated and healthy.
Redmond Daily Gold bentonite clay balances pH, improves equine digestion and resolves diarrhea. The 68 trace minerals in our clay also replenish depleted electrolytes and essential minerals lost through diarrhea. Click below to learn more about our products!
Learn More
Want to learn more about combatting horse dehydration? Read this article by award-winning horse trainer/educator Julie Goodnight.
Red had a bout of equine diarrhea that wouldn't go away. Learn how this horse owner used Daily Gold to resolve it.
Copyright © Redmond Equine. All rights reserved.