Spring Horse Care: 11 Tips to Get Ready for Riding Season
February 28, 2023
Baby, it may be cold outside now…but it won't be for long. Before you know it, winter will be a fading memory and riding season will be in full swing. So how do you ensure your horses are healthy and ready to take on the challenges of a busy spring and summer? The tips below about caring for horses in spring will help you get the season started right.
---
Preparing and Caring for Horses in Spring
We asked championship riders and professional trainers what horse chores owners should do to get ready for spring and compiled their answers for you. If you want to ride like a pro, try preparing like one! Here are 11 horse care tips to improve health, maintain tack and equipment, and organize your calendar as you head into spring training and competition.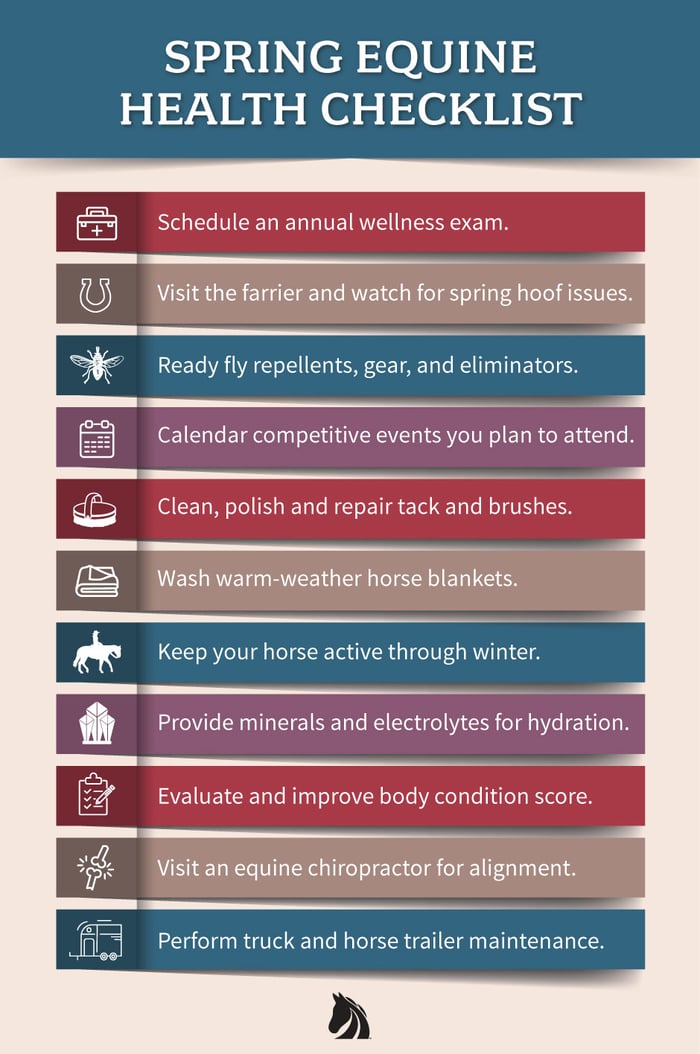 1. Schedule a Springtime Horse Health Checkup
First things first, don't skip the vet. Book appointments early to ensure your horse gets an annual wellness exam, spring shots, and dental care. A pre-season exam can give you a broad view of your horse's health and is a good time to discuss medical history and plans for training and activities.
We tapped veterinarian Dr. Jessica Huntington's knowledge about what maintenance needs to be done on a horse annually. Here's what you can expect your vet to discuss and do at a springtime checkup:
Annual exam (includes physical, oral/dental, lameness and neurological)
Discuss if annual blood work is necessary
Update recommended vaccines and Coggins test
Discuss diet (forage, grains, and supplements)
Discuss current weight management (does your horse need to increase, decrease or maintain its current weight)
Discuss current level of exercise and competition
Discuss any general concerns you may have
2. Stay on Top of Hoof Care
Winter and spring bring their own hoof concerns. Whether you keep your horses shoed or have them go barefoot in the winter, maintaining healthy hooves will make the spring transition much smoother when hoof growth picks up. If it's been six to eight weeks since your horse last saw the farrier, pick up the phone and schedule an appointment before serious riding begins.
Also watch for and treat these hoof conditions that occur in horses in wet spring weather:
Hoof cracks

Frog sloughing

Abscesses
Product Tip: Horses with nutritional deficiencies grow weaker, less flexible hooves. Giving your horse a quality trace mineral supplement like Daily Red encourages healthier, stronger hooves so horses can manage anything from a quick lope around the arena to a demanding trail ride.
3. Stock up on Fly Protection for Horses
While spring abounds with things to look forward to, flies and mosquitoes aren't one of them. They carry disease and bacteria and cause significant stress for horses—and you. Don't wait for pests to be a problem around your barn! Gather fly gear and check its fit and condition now so it's ready when your horse needs it. Also stock up on preferred fly repellants and eliminators early. (Get additional spring fly-fighting strategies here.)
Product Tip: Searching for a natural option to reduce insects on your horse? Consider Redmond Rock Crushed with Garlic mineral salt. Garlic's pest-repelling power fights flies from the inside out and Crushed delivers 60+ minerals for better health.
4. Create Your Events Calendar
If you're riding competitively, list all the shows and events you want to attend during the year and put them on your calendar. Think of it as a visual whiteboard to inspire and guide your success. It will help you map out training and logistics while keeping your goals literally in sight.
5. Clean Tack and Brushes
Spring is the time to tidy up the tack shed. And we're not talking about a quick once-over, but a good, deep cleaning. Get your gear gleaming in a way you don't have time for during the busy season. Also, don't overlook things like brushes, which can harbor bacteria.
Here's a quick review on how to clean horse brushes so they're brisk and ready to care for the spring coat:
Scrape a curry comb over bristles to remove dust and hair.
Dunk brushes in soapy water with a splash of mouthwash added to disinfect and freshen.
Agitate brushes and then rinse thoroughly.
Set out to dry in a warm, sunny place.
Product Tip: Looking for the best tack cleaner to wash and condition your seat and gear? Leather Therapy and Lexol are two we use and like!

6. Wash Horse Blankets
You know how hard it is to get horse blankets washed when they're in daily use. So grab a good book and take a trip to the laundromat for a mass cleaning. Take care to check tags first, though; you don't want to ruin a favorite blanket with the wrong washing method. Also, handy mesh bags are available to contain horse wear during cleaning. The bag protects your washer (or the laundromat's) from blanket buckles and keeps hair and gunk out of the machine.
7. Don't Skip Winter and Spring Horse Rides
An elite athlete doesn't stop training during the off-season, and neither should your horse. Riding all winter prevents injury and keeps them physically fit for competition. Even if your horse is on vacation during cold months, they need exercise. Turn-outs may not be enough, so get them out and active. Here are tips to help you ride safely during the winter and enjoy your time together.
8. Give Your Horse Minerals and Electrolytes
Dehydration is a year-round concern, but the worry jumps when you ramp up training and the thermometer climbs. On average, horses need 5 gallons of water daily for simple body maintenance. That's a baseline. If your horse is working hard in hot weather, water requirements can easily double or triple.
Provide your horse a free-choice salt rock or mineral block, a daily loose mineral salt, and keep an electrolyte product on hand for extreme days of heat or intense exercise. The minerals will trigger thirst, help your horse drink more and stay consistently hydrated through summer.
Product Tip: All-natural Redmond Rock on a Rope, Redmond Rock Crushed, and Redmond Electrolyte have salt and 60+ trace minerals and electrolytes to improve health and get your horse's nose in the water bucket more often.
9. Work on Horse Body Condition Score
Now is the time to make tweaks that will improve your horse's body condition score (BCS) before competitions begin. Does he need fattening up? Slimming? Work with a vet or equine trainer to formulate a plan to take you through the rest of the year. Dr. Huntington recommends evaluating these three things to tune up your horse's BCS:
Are your equine athlete's complete nutritional requirements being met? With increased exercise, calories may need to increase also.
Is your athlete working too hard... or not enough? Ensure you're exercising your horse at the proper level to give it the best chance to stay injury-free.
Is your horse fit and ready to travel? Discuss with your vet what supplements may help your equine athlete have the safest travel experience possible.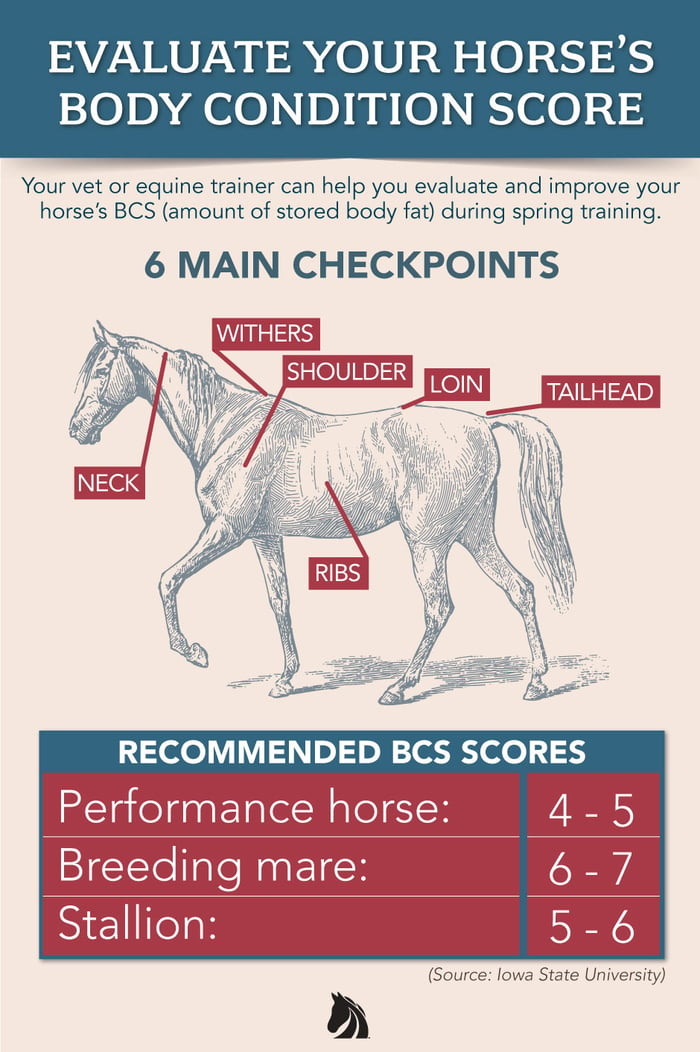 10. Set Up an Equine Chiropractic Adjustment
Having an equine chiropractor evaluate your horse before you bring them back to work will ensure its body is aligned correctly. Correct alignment prevents soreness and allows horses to carry themselves properly and use their bodies well. During the exam, the chiropractor will palpate your horse's joints and check range of motion in the spine and legs, then make any adjustments. Many veterinarians are already certified in animal chiropractic, and yours may be as well. Give 'em a call to find out.
11. Do Truck & Horse Trailer Maintenance
Clean and perform necessary maintenance on your ride so you're ready to roll when it's time. Spring is also a great time to perform annual horse trailer inspections. The weather is nice and you'll be using them more often in the coming months. Use this horse trailer maintenance checklist to help you inspect key areas of your trailer.
Spring Into Action!
Got a unique springtime task of your own? Add it to the list and get started! Horse needs vary, and you know best what your equine requires to head into the spring and summer seasons healthy.
At Redmond, we're here to help. We have with springtime horse supplements that improve health and keep you both doing what you love year-round. Click below to explore our products and discover which may benefit your horse.
Learn More
© Redmond Equine 2023. All rights reserved.