A Redmond Story: Daily Gold Healed Ulcers in Kara's Barrel Horse
June 9, 2021
Worried your performance horse has ulcers? You're not the only horse owner dealing with this pervasive problem. According to this American Association of Equine Practitioners article, up to 90 percent of racehorses and 60 percent of show horses are affected by equine ulcers. It's a staggering number and concerning for horse owners who want to care for their animals and make sure they feel well and perform their best.
That includes horse owner Kara Posch. Her barrel horse Six Bugs Runnin developed gastric equine ulcers, and when typical pharmaceutical treatment failed, they turned to Redmond Daily Gold Stress Relief for help. Read their story below and check out our infographic to learn the symptoms of ulcers in horses.
---
Meet Kara and Her Barrel Horse Six
I started barrel racing seven years ago. In 2011, I purchased a barrel horse named Six Bugs Runnin – aka Six. From day one Six and I had a connection that I have never had before with another horse.

I started placing on Six shortly after buying him, but I could always tell something wasn't 100%. I began hauling him hard to get him seasoned, and that's when I became concerned because he would stop eating after two days on the road. He was a very picky eater and hard to keep weight on. He also would bite the air when being cinched.

I had Six scoped by a vet and they said he had ulcers. I treated him with UlcerGard, and kept him on it daily to prevent them, but nothing seemed to improve. Then I had a chiropractor look at Six and he referred me to Redmond Daily Gold Stress Relief. He said, "It is the only thing that will heal an ulcer and prevent one."

After reading up on Daily Gold horse supplement, I was shocked to see that the product was around $25 a pouch and it was completely natural! I ordered it right away to try it. Within two weeks Six started consuming all his feed, and he also started consuming more hay. Within one month he gained weight and was eating on the road. My horse went from placing at rodeos to winning rodeos! Six has never looked or felt better than he does today.

I was so thrilled with Daily Gold, I've also purchased Redmond Rock Crushed and Redmond Rock on a Rope. Whether your horse is competing, training or being used for recreational use, Redmond has what you need! I highly recommend any of these products.

- Kara Posch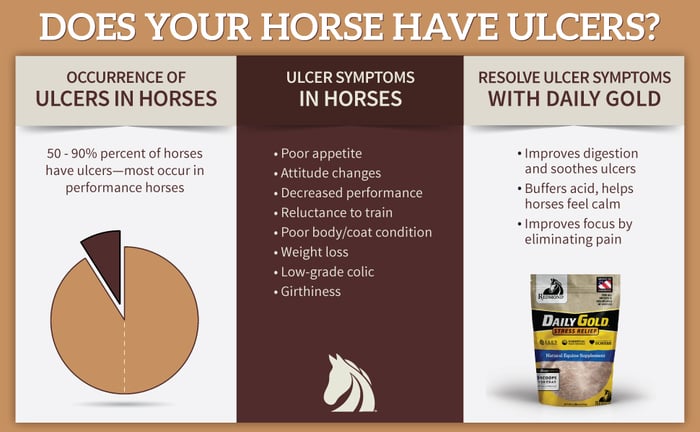 Add Daily Gold and Other Redmond Products to Your Horse Care Regimen
Daily Gold is a proven, vet-approved treatment to repair and prevent stomach ulcers in horses. The ingredients are natural and simple: just bentonite clay. Check out this equine ulcer case study done by Dr. Jessica Huntington showing the healing effects of Daily Gold on gastric ulcers. Our natural, effective product also improves digestion, buffers acid, and delivers 60+ essential loose minerals for horses. Daily Gold is available in powder form or a fast-acting syringe.
Want to try the other Redmond products Kara mentioned? Our solid mineral rocks and crushed mineral supplements are the perfect pairing with Daily Gold to complete your horse care regimen. Click the buttons below to shop Daily Gold, Redmond Rock, Crushed, and all our Redmond products!
Learn More
Barrel Racer Kate Quast used Daily Gold Stress Relief to shave off half a second from her horse's time in just three days. Watch her story below.