A Redmond Story: Daily Gold Made Demri's Horse Calmer
June 24, 2021
Is your stressed horse keeping you both from performing your best? Stress and anxiety in horses can manifest as gut problems, behavior issues, failure to thrive -- and other symptoms that cause frustration and worry. But vet appointments and pharmaceuticals to treat these problems can be expensive and ineffective long-term.
Are you looking for a natural, effective, and affordable alternative to treat nervousness in your horse? So was Demri Allred. She used cost-effective Daily Gold to help her newly-trained Appendix barrel horse calm down, focus, and achieve a faster time. Read her story now!
---
Meet Demri and Her Appendix Ruger
Ruger is an off-the-track Appendix turned barrel horse with a history of overcoming. While Ruger didn't have the best racing career as a two- to three-year-old, when he started performing in the barrel pen, he became a very consistent, honest barrel horse.

I bought Ruger because I connected with his story. I feel I can also do whatever I set my mind to if I have the same passion. And like Ruger, riding always pushes me to do and be better.

When I brought Ruger home, he wasn't in the best shape. But he had an easy disposition and during our first ride I could tell he knew his job and could get it done with his massive stride.

As Ruger began putting on more weight in the following weeks, he started becoming more and more nervous. It became hard to get him in the gate or even walk through a simple barrel pattern. The frustration felt endless, and I worried solving Ruger's problem might take a lot of trial and error.

That's when I turned to Redmond. I'd seen good things about Daily Gold Stress Relief all over social media and decided to try the product on Ruger. It's all-natural, so I didn't feel like I'd be drugging or poisoning my horse. And I also loved that it came locally from my home state of Utah.

Within just one week on Redmond Daily Gold, Ruger had noticeably calmed down. His behavior was better, he was easier to get in the gate and more relaxed in the arena. He was also gaining weight that filled him out instead of just making a hay belly.

About two weeks after starting Daily Gold I took Ruger to a local jackpot. It was there I knew Daily Gold was really doing its job. When our run came, Ruger calmly walked into the gate—and then beat our personal best time by half a second!

I have no worries now about hauling my horse down the road and wondering what shape he'll be in. I don't stress about him causing a scene when we get in the gate. Daily Gold has really calmed Ruger and continues to help him maintain a steady, healthy gut.

-Demri Allred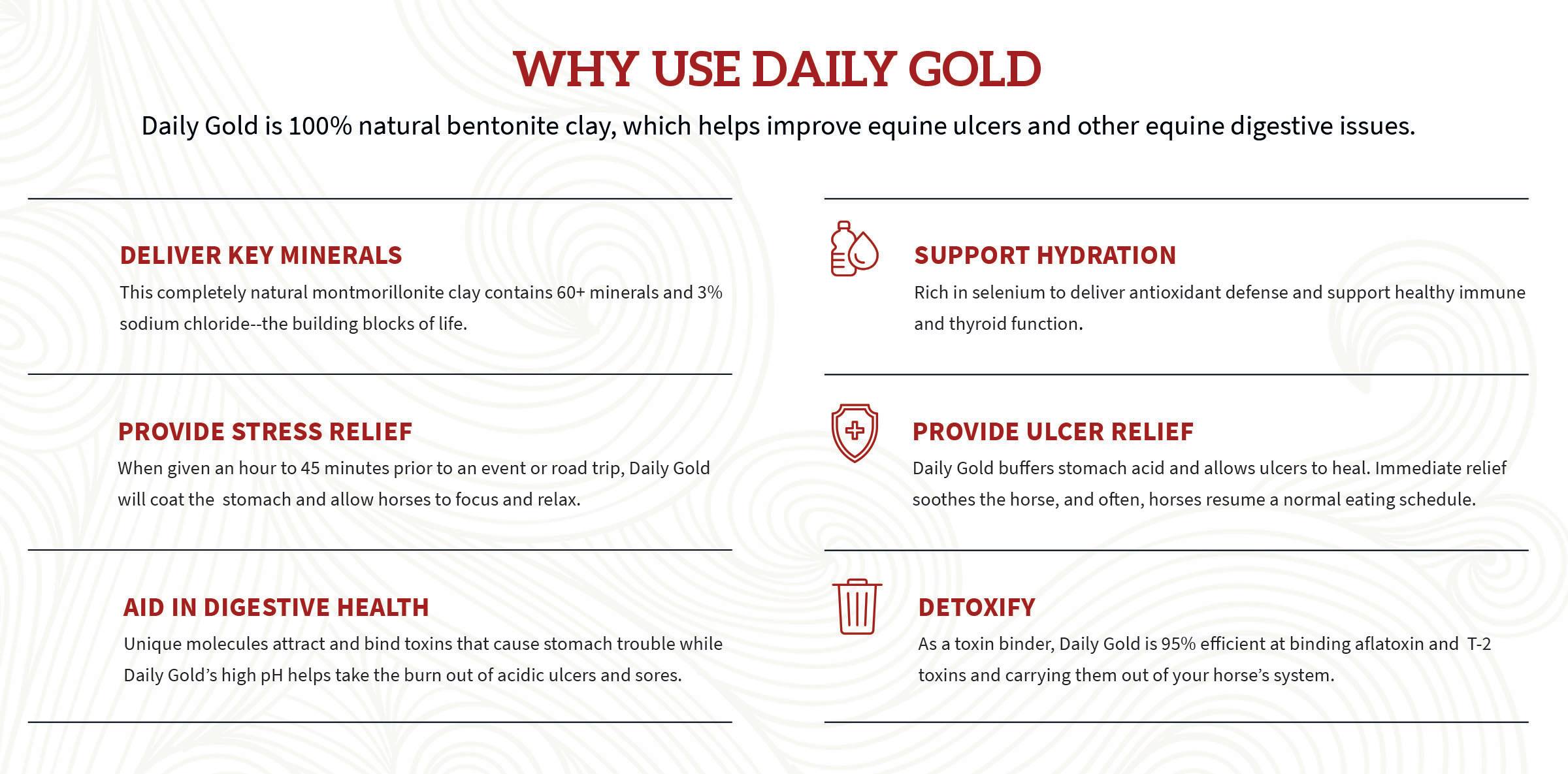 Treat Anxiety in Horses with Daily Gold Calming Minerals
Daily Gold Stress Relief calms horses without drugging or taking away their natural drive. Instead, Daily Gold heals and calms naturally, from the inside out. Our Redmond-brand bentonite clay soothes gut problems and neutralizes acid that cause horses stress and anxiety. Plus it has 60+ loose minerals to improve horse health and appearance. Daily Gold is effective, affordable, and completely natural. Try a sample pack today and start saving your horse and your money.
Learn More
© Redmond Equine. All rights reserved.