Vet Advice: Treating Equine Ulcers with Redmond Daily Gold
May 26, 2021
In this post, Jessica Huntington, DVM, from Stephenville, Texas discusses ulcers in horses and a medical study showing how Daily Gold Stress Relief resolves them quickly. Dr. Huntington takes an integrative approach to the equine athlete by combining traditional veterinary medicine with chiropractic care and acupuncture. Learn her results below on the efficacy of treating gastric equine ulcers with Daily Gold!
---
Medical Treatment of Ulcers in Horses
As an equine sports medicine veterinarian from Stephenville, Texas, I routinely examine rodeo horses and treat those that exhibit signs of stomach discomfort and ulcers. My usual recommendation for ulcer treatment costs between $800 and $1,200 for one month using FDA-approved pharmaceutical products. Many horse owners are sticker-shocked by this price, and even though the products work, the cost can create a financial burden and interfere with treatment.
Natural Equine Ulcer Treatment Study
Recently, my tech and I started a study of five horses that showed sensitivity to stomach pain on an acupuncture scan. After scoping the horses' stomachs, we found that all five had grade 2+ ulcers.
We immediately began the horses on a six-week trial of Redmond Daily Gold Stress Relief, which helps to naturally buffer stomach acid so ulcers can heal. During treatment we doubled the dose of Daily Gold, administered in Triple Crown Senior, and fed the horses only alfalfa hay.
Findings
After six weeks of treatment, we again scoped four of the five horses. (One owner declined a second scope as he felt it unnecessary since his horse was feeling great.) All four of the horses' grade 2+ ulcers were healed at the time of the second scope. Two had developed two to three new ulcers, but I determined if the horses stayed on Redmond Daily Gold, the ulcers would likely heal as well.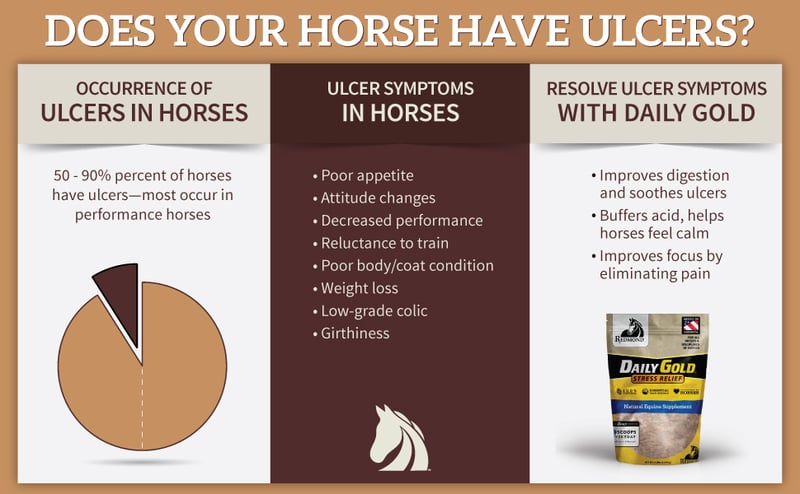 Recommendations
Following our study, I concluded that rodeo horses and equine athletes can be greatly benefited by providing them with the necessary natural supplements to allow their bodies to heal themselves.
In my professional opinion, it's necessary for any equine athlete to be on Daily Gold Stress Relief. It provides the gastric support needed to keep horses on the road and performing their best.
Daily Gold is an effective, affordable choice for most horses suffering from ulcers or digestive problems.
- Jessica Huntington, DVM
Learn More
© Redmond Equine. All rights reserved.