I've owned my gelding K-Love ++/ since 2011. He's now 15 years old and is a very well-behaved, respectful Arabian. He's giving an excellent name to the Arabian breed in Norco, California—an equestrian-oriented town where the bar is set high with horse training.
K-Love and I do a lot of groundwork, as well as trail and street riding. I love being outside and feel peaceful when we're on the trail together.
We also participate in dressage, which is an exciting and challenging discipline for me. For K-Love, who has a club foot, it promotes needed strength and balance that makes him more comfortable to ride on the trail—which is where we'll eventually end up when we're both old!
Our Problem: My Horse Ignored His Block
Back in 2011, when I first purchased K-Love, I noticed my horse wasn't licking his salt block much, even on days of heavy riding.
I believe salt is best for horses after a workout as opposed to giving an electrolyte every day. So when K-Love wouldn't use his salt block, I became concerned he wasn't staying properly hydrated and receiving necessary minerals. I knew we needed a quick solution.
The Solution: Redmond Loose Mineral Salt
It didn't take long for me to get to Inland Vet Supply and find the answer to our problem in a 20-pound bag of Redmond Rock Crushed loose mineral salt. I've been feeding Redmond salt every day since instead of an electrolyte. I've never had a colic situation, and I just adjust the dose lower for rainy days.
I've told as many people as possible how great your product is! I love the natural state of Redmond Rock Crushed and that it's in small granules so horses don't burn their tongues trying to get enough. I also love you can mix it right into the bucket of whatever feed solution your horse receives.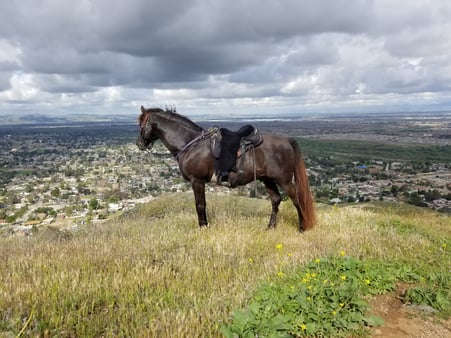 Following Our Passion
During our years together, K-Love and I have had a beautiful journey of fun trail rides and competitive dressage. We're now participating in the FEI (Fédération Équestre Internationale) levels.
Thanks to Redmond, I don't worry about K-Love after a workout. I give him the Crushed loose salt he needs, and feel confident his body is being well-hydrated to support his joints, stomach, and muscles, preventing damage and low energy.
Today my 15-year-old Arabian continues to feel excellent and have great energy. We respect and do our best to listen to one another. And we continue to challenge each other to push a little harder and do things we never imagined... like piaffe and passage!
- Shelby Suelzle; Norco, California

Learn More
Want to learn about Redmond Rock Crushed and Daily Red loose mineral salts, and which is right for your horse? Read this post.
Copyright © Redmond Equine. All rights reserved.