Coming into fall, my 8-year-old mustang dropped a considerable amount of weight. Being relatively new to owning horses, this was the first time I had real concerns about her health. I've dealt with some minor injuries but seeing her ribs, hips and general lack of energy troubled me. Things needed to change for Lexi but I was unsure where to start.
Lexi ate and drank well, but lost weight at a regular cadence. After about a month of increased grain not making much difference, I started really looking for the problem. Initially, I thought ulcers might be prohibiting the digestion of nutrients in her feed. I increased her roughage, added alfalfa and introduced a hay net to mimic her natural state of grazing. I also gave her a course of Redmond Clay to help aid her overall digestive health. This natural bentonite clay helped trap and remove any bacteria or other ailments in her digestive system leaving a healthier overall intestinal environment.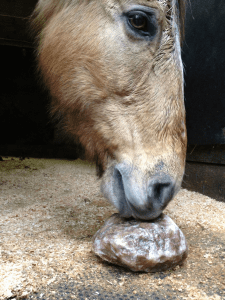 I consulted with my vet and devised an overall rehabilitation plan to bolster Lexi's well-being. The vet suspected excess sand in her digestive tract which we got moving through her system with the increased roughage intake. I switched her grain over to a ration balancer, and added rice bran and beet pulp to her diet. I also added Redmond Equine's Daily MVP Gold and Daily Red to ensure that Lexi got all of the natural, balanced minerals she needed. She had about seven weeks off work to allow the calories and minerals to rehab and rebuild her body. Through this period, I also pulled her shoes and took her barefoot for the first time.
Now, the solution is natural and simple. Lexi's diet represents a balance of calories, protein and nutrients necessary to keep her healthy. Redmond's products are a significant part of her rehabilitation. Lexi loves the Redmond Rock in her stall, and she receives loose minerals every day. Her healthy body, shiny coat and full mane are lovely. Lexi has been completely sound through the barefoot transition. I have slowly brought her back into full work developing her strength and topline gradually. The dramatic change in Lexi's attitude is extraordinary as she more willing, calm and affectionate than ever before.
Thank you Redmond Equine for being invaluable to my mare's health.
Michelle Jacob