I enjoy spending endless hours in the saddle, sometimes not in the greatest weather conditions just so I can test my (and my horse's) endurance. I think of riding my horse on top of mountains formed in the last ice age with a view stretching for miles. How the clouds slowly approach against the backdrop of blue while the trees sing when a gentle breeze blows through them. Listening to the distant call of a bird gliding along like a surfer rides a wave. Watching the sun rise, and set. How when you ride under the stars at night on a 100 mile endurance ride you feel a peace that can't be explained.
As an endurance rider I love my horses, and I love the outdoors. If you gave me a choice of going to a concrete theme park or to go hit the trail with my horse, the trail would win hands down. If you give me a choice of staying at a 5 star hotel or sleeping in my trailer, my trailer would win hands down. I also truly love taking care of my horses, feeding them, cleaning up after them, and tending to their every need. I love watching them turn into the incredible athletes that they have become.
My curiosity makes me need and want to see what is around the next bend or up the next hill, and it doesn't matter how many times I do the same ride every time it is different. The same things won't be around the same bend each and every time; sometimes the bend is even in a different spot. I like the knowledge that what matters is the experiences I take home with me.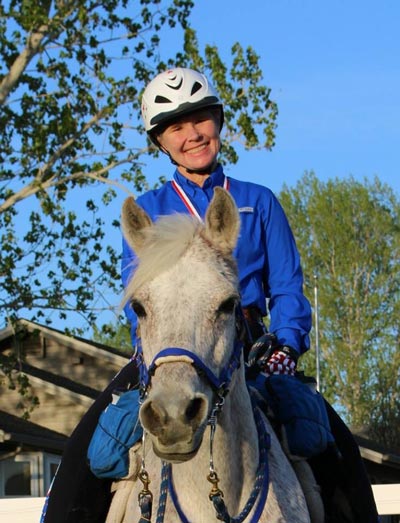 Then there is always the adventure that keeps me coming back for more. The simple knowledge that many of these great places can only be seen by a few. I enjoy the challenge of getting to a certain place with my horse. It is worth every step, bug bite and any other discomfort along the way just to know that they will soon be forgotten, with the first aah or wow of the view or the satisfaction of completing the ride. I love the flowers and the trees that surround me. I love the way being out there makes me feel, refreshed relaxed and carefree. I love the smell of the woods, the dirt under my fingernails, and the scent of horse sweat while enjoying the rhythm of his hoof beats.
Describing why I ride goes beyond words; it's the feelings and the enjoyment of spending time with my horse, the great outdoors, and most of all; finding my own adventure!
I have a lot of goals, which are extremely important to have. I am currently competing on two very special horses. Granite Chief+/ is already in the American Endurance Ride Conference Hall of Fame for his accomplishments. Together Chief and I have now completed 14,475 miles. My big goal with him is to reach 15,000 miles. My other horse Pro Bono D "Bo" has 8,200 miles and had colic surgery just over a year ago. He has since completed several 50 mile endurance rides in three different regions. We are slowly expanding how far we will travel as he shows me that he is not only ready to go but loving every inch and mile of ground that we cover together.
Both of my horses love their jobs and that is Why I Ride.
Karen Chaton
[divider line_type="Full Width Line" custom_height="100″]
Subscribe to the Redmond Equine Newsletter
Join other horse lovers and be part of the Redmond Equine community. We'll share cool tips, fun pictures, giveaways, and more!
[mc4wp_form]
[divider line_type="No Line" custom_height="40″]