Poultices for Horses: How to Reduce Swelling in Legs
March 10, 2021
Our horses work hard, and like humans, they get sore after training, trail riding, competing, traveling, even standing too long. Often a side effect of their job is stiff, sore legs and what's known as stocking up—a process where lymphatic fluid pools in the legs, causing swelling. Stocking up is more than just a temporary discomfort; it can diminish a horse's performance and potentially lead to further injury.
We care about our horses and want to make sure they're comfortable and cared for after they put in a hard day's work. That's where using an equine poultice can help. Keep reading to learn about horse poultices, their benefits, and when to apply them.
---
Recommendations of an Equine Massage Therapist: Using Bentonite Clay on Horses
We asked Lindsay Robins, a certified equine massage therapist and competitive team roper, to weigh in on the causes and treatment of stocking up from her unique professional viewpoint.
"Stocking up is usually a result of working your horse hard and then putting them in a trailer or stall to stand," Robins said. "If your horse isn't stretched out well enough or able to cool down long enough, leg swelling and soreness can occur."
When this happens, Robins recommends applying a bentonite clay poultice—a time-honored treatment for drawing out pain, fluid, and inflammation from horses' legs.
"A poultice is great for sore legs and stocking up," she said. "As an equine massage therapist, I can't really get to or work on the joints and ligaments in the legs. In my experience, a poultice really helps reduce inflammation and swelling in those areas."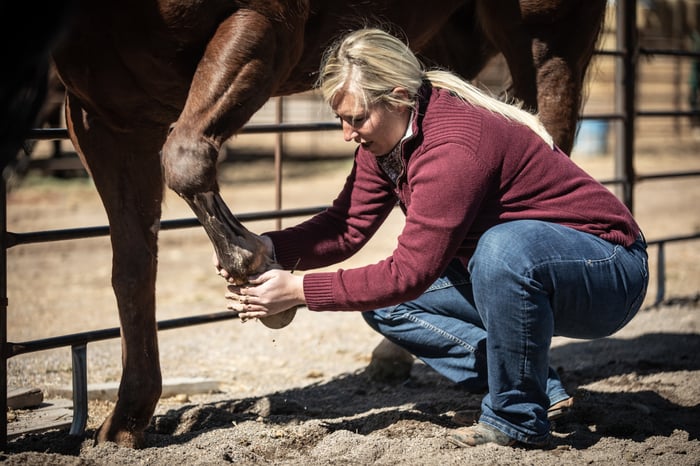 Benefits of an Equine Poultice
Slathering a poultice on a horse's legs as a "drawing salve" to prevent and heal injury has been done for thousands of years. Horse poultices are often made from bentonite clay and water and applied from knee to fetlock. Salt, essential oils or other medicinal drops can also be added. The clay improves blood circulation and draws out toxins and fluid, while medicinal oils cool and reduce tension and inflammation in the legs.
Robins uses Redmond Red Edge clay poultice on her own ranch and rodeo horses and often recommends the remedy to clients.
"Taking care of our equine athletes is just as important as taking care of human athletes," she said. "A poultice can help do that by decreasing inflammation, increasing circulation, and ensuring your horse's leg ligaments and muscles cool down easier and faster."
Applying a poultice isn't just about remedial therapy, however. It also strengthens the emotional bond between you and your horse as you massage out soreness and apply a product that helps your horse feel better. A poultice may be as much about pampering and rewarding your horse as it is about performance and practicality. Think of it as a spa day for your horse!
Does My Horse Needs a Poultice?
Any hint of your horse limping or favoring a leg is a red flag and should be checked out immediately. More subtle signs of stress or injury can be recognized and caught early by checking your horse's legs often, especially after strenuous exercise.
Once your horse has cooled down, Robins recommends running your hands over your horse's legs, paying close attention to the knees, hocks and fetlocks. Look for these specific signs of stress or injury:
Puffy or swollen areas.
Hot spots or changes in temperature.
Tenderness.
Finding bumps, joint softness, or other abnormalities.
Once you identify a problem, Robins says to apply a thick coating of poultice to the area and work it in.
"I like to massage the mud in to make sure it's getting in deep, especially if there's a specific spot of inflammation or swelling I'm trying to pull out."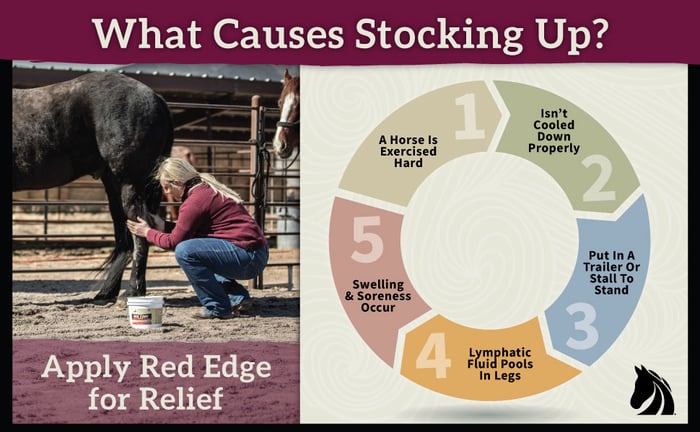 5 Situations You Should Apply a Horse Poultice
While Robins said there's no wrong time to use a poultice, there are specific situations when a poultice is recommended:
Before trailering and traveling.

Long rides are stressful on horses' legs and can create pain, stiffness, and swelling long before your horse unloads.

Before exercising or an event.

Applying a poultice the night before an event or strenuous exercise will help prevent injury and keep your horse's legs cool and tight.

Cooling down.

Apply immediately after exercise or an event to reduce inflammation, swelling, excess fluid, and to jumpstart a quick recovery.

Using it on the hoof.

You can pack your horse's hoof with a poultice to relieve foot soreness, bruising and abscesses.

Before shoeing.

Your farrier will also thank you for using a hoof pack prior to shoeing, as this creates a soft, pliable hoof.
Redmond Red Edge Clay Poultice
Darcee Shepherd has been riding horses and competing for 32 years. Through her professional barrel racing career, she's been a WPRA money winner, multiple-time futurity winner, open-money winner, year-end winner, and a trailer winner.
Shepherd knows about winning and has used bentonite clay horse poultices to help her do it. She uses Redmond Red Edge on her horses to ease trailer stress, help with soreness, injuries, and to speed up recovery after runs. Watch the one-minute video below to see how she applies Red Edge to her horse.
"Poultices are one of my favorite things to use," Shepherd said. "I feel like my horses legs stay tighter and less sore. Red Edge reduces inflammation and pain, which means my horses feel good and want to do their jobs--and hopefully means fewer trips to the vet. For me, anything I can do to keep my horses' legs tight and healthy is a win."
Red Edge is made from Redmond Clay and pure essential oils. It cools on contact to soothe hot, tired muscles, then draws out excess fluid and swelling. Apply Red Edge as a proactive way to help your horse achieve peak performance and shave off that critical half second that scores a win for you both.
Learn More
Read this testimonial from a former jockey on how Red Edge improved her horses' times.
Wondering how to poultice a horse's leg? Watch this short video of Darcee Shepherd applying Red Edge on her horse.
© Redmond Equine. All rights reserved.