A Redmond Story: Daily Gold Transformed Dalia's Senior Horse
June 9, 2021
While loose stool in horses is not an uncommon problem, it may become a dangerous one if not resolved quickly. When horse diarrhea becomes chronic, it can cause weight loss, dehydration in horses, colic, and an overall poor appearance and affect.
Dalia Griffith's senior horse Star suffered with a prolonged bout of diarrhea after a change in diet. Keep reading to learn how they resolved the problem with Redmond Daily Gold Stress Relief.
---
Meet Dalia and Her Sweet Mare Star
We rescued our wonderful mare, Star, nearly 13 years ago when she was 12 years old. She was pregnant and suffering from the aftermath of terrible abuse. She'd been through some awful times (and has the scars to prove it), but was still wanting so much to love and trust. Horses are remarkable that way, aren't they?

Star gave birth to her daughter, Nova, about three months after joining our family, and they both still live in our pasture along with their sidekick, a miniature donkey named Bobby Sue.Star has always been a sweet, loving girl. She calmly carries my husband, who has very little experience in the saddle, around the trails near our home and is gentle with our children and various other pets. More than anything, though, Star loves to be groomed. She gets a little pushy when I'm brushing one of the others, and will drape her head over their backs and stare at me in the hopes of luring me away.

I've had horses all my life, but none have loved grooming time as much as Star. Perhaps it's because she was so deprived of love in her early years that the experience has taken on an almost spiritual quality for her. Our grooming sessions are incredibly special moments and one of the reasons I love her so very much.

That's why my heart sank when I noticed last summer her ribs began to feel and look prominent. She had always been an easy keeper; her weight remained steady no matter the season. All my animals are on a regular worming program, and after the vet declared her healthy, we started upping Star's calorie intake. We started slowly, first with a senior feed and then a weight-gain supplement mixed in. She did gain weight but also developed chronic diarrhea. It would come and go, but was a persistent problem that concerned me.

For a couple years I'd had a Redmond Rock in my pasture and had great success with it on my horses. So when I heard about Redmond's Daily Gold Stress Relief horse product and its potential for helping with digestive issues, I jumped at the chance to incorporate it into Star's diet.

After a couple of weeks of using Daily Gold, Star's diarrhea began to dissipate. Every day, I'd walk around the pasture, dutifully checking for loose stools, and was relieved to see fewer and fewer every week. I'd been having to wash her hind end regularly to keep her clean, and that was no longer necessary.

But something else happened, too: Her top line, the one part of her body that wasn't picking up weight like it should, began to fill in. This surprised me, as I'd been so focused on her diarrhea that I hadn't really considered how Daily Gold would impact Star in other ways. But it provided her aging digestive system with the extra boost it needed to return to optimal health, and as a result, take full advantage of the nutrients she was ingesting. She even sailed through our harsh Idaho winter without dropping an ounce, and emerged looking as healthy as ever.

Redmond Daily Gold transformed Star. It gave her body the help it needed, and ultimately brought my sweet senior girl back to full health. When I tell people she's nearly 25, their jaws drop. She looks like a teenager again, and this mom is sleeping much better as a result.

- Dalia Griffith
What Causes Loose Stool in Horses?
An important function of a horse's large colon is to regulate the amount of water absorbed in the body. If you, like Dalia, notice your horse has loose stool, it may stem from one of these common instigators of intestinal upset: stress, poor oral health, internal parasites, a change in diet, introducing new supplements or medications, or consuming too much sand. Check out veterinarian Dr. Jessica Huntington's article, 6 Causes of Loose Manure in Horses, to learn more.
Since Star was parasite-free, her loose stool was likely brought on by a change in feed and weight-gain supplements, which can alter gut flora. Luckily, Daily Gold horse supplement was able to help.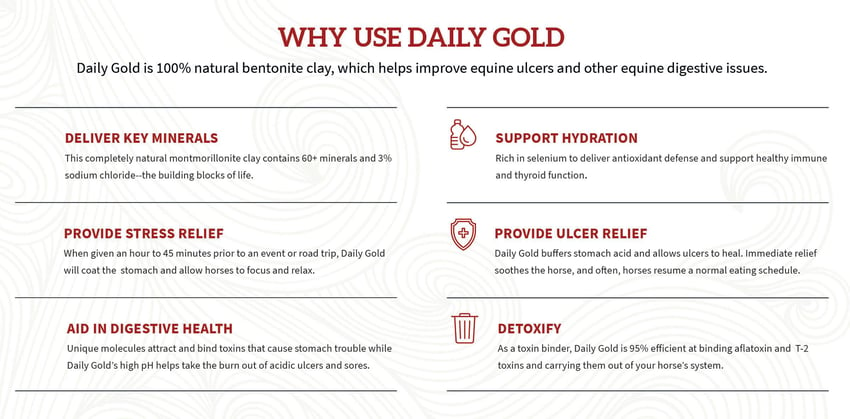 How Daily Gold Resolves Horse Diarrhea
Daily Gold Stress Relief is simply montmorillonite aluminosilicate (bentonite)clay sourced from Redmond's mineral deposit in Central Utah. Our clay was formed by aged volcanic ash and seawater. Through the ages bentonite, the "healing clay," has been used internally to improve digestive ailments like diarrhea in humans and animals.
This study, The Value of Bentonite for Diarrhea, notes bentonite improves digestion by binding toxins and harmful bacteria:
"It has been established in vitro and in vivo that hydrated aluminum silicate adsorbs toxins, bacteria and viruses. This property helps to explain its therapeutic usefulness in acute diarrhea of diverse etiology. By virtue of its physical action bentonite serves as an adsorbent aid in detoxification of the intestinal canal."
In addition to it's remarkable ability to resolve diarrhea and improve digestion, Daily Gold also has 60+ loose minerals to nourish and increase overall horse health. Click below to learn more or purchase today and make Daily Gold a regular part of your horse care program.
Learn More
Daily Gold can improve appetite and aid senior horses in many ways! Watch Jodie's one-minute story below.
© Redmond Equine. All rights reserved.