6 Tips for Taking Great Pictures of Your Horse
May 3, 2022
Ever seen your horse in the most regal stance or playful mood and thought, "I should take a picture," only to be disappointed by the way the photo turns out? We get it. Too often photos just don't deliver or even come close to capturing the heart and humor of who our horses really are.
So how do you take good pictures of a horse? We spoke to the photographers on our team to find out the best and simplest things non-photographers can do to snap better pics, and they didn't disappoint. Here are basics of how to take photos that will have you falling in love with your four-legged friend all over again. But first...
---
Best Camera for Horse Photography
Most riders won't have an expensive camera strapped around their neck when their horse pulls something picture-worthy. However if you actually have a horse photoshoot planned and are looking for the best lens for equine photography, here are our suggestions:
Action shots: Try a variable zoom lens such as a 24-70 mm.
Portraits: Horses (like humans) look best with 50-70 mm focal lengths.
If, like most of us, a cell phone is what you've got on hand when your horse decides to be brilliant, no problem. Life happens on the go, and some of the most memorable moments are captured with a quick and candid shot. You can take good and even great photos of horses on a camera phone. Just follow the tips below and you'll be in fine shape.
Simple Tips For Taking Share-Worthy Horse Photos
These pro tips are easy to implement, don't require fancy equipment, and best of all, you can start using them right away. Choose one or two or go for the full gusto—however many you put to use, you'll see improvement in the way your photos turn out.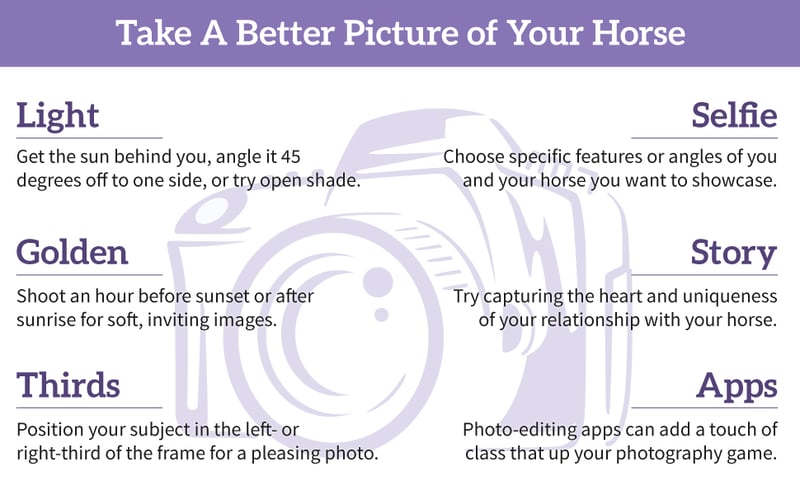 1. Work with Light
Our photographer Paul says, "Light is the language of photography." In fact, a picture simply can't be captured without it. So if you want someone to understand what you're trying to say with your photo? Learn to use light in its many dappled, direct, and indirect forms.
Let's start simple. Instead of shooting facing the sun, get the sun behind you. This lights your horse from the front and illuminates the details of its unique coat color and face. After that, try getting the sun to one side of you at about a 45-degree angle, creating drama or visual interest. You can also capture softer images by finding open shade—somewhere protected from direct sunlight but with ambient light around it. Maybe under an old live oak, beneath a colorfully rusted awning, or just inside your horse's barn doors. Don't be afraid to try different locations. Experimenting with the sun's position relative to you and your horse can completely change the look and feel of a photo.
2. Go for Gold
Pros who shoot outdoors often try to do so at the very beginning or end of day, because that's when the magic happens. The last hour before sunset and the first hour after sunrise is golden. Literally. It's known as the golden hour because the light casts a rose-gold glow that makes everything look soft. Warm. Inviting. The hues are so flattering and forgiving, it takes work to ruin a picture taken during this time. The light is even, diffused at an angle—and the color will do all kinds of favors for your horse and the surrounding landscape. The golden hour is the perfect time to capture a beautiful moment about to begin or end.
3. Thirds, Please
Skylyn, our horse photographer and videographer, suggests learning one of photography's most basic techniques: the rule of thirds. This guideline improves your picture's composition and works with the human eye's tendency to be drawn to certain parts of an image that are most important.
Here's the general gist: instead of always centering your subject (i.e. your horse) smack in the center of the screen as many of us want to do, try moving it to the right or left third of the picture and leaving the remaining image more open. Following this rule generally leads to compelling and well-composed shots.
Ready to practice? Try editing an old photo using the rule of thirds (most photo-editing apps have the grid built right in). The grid will divide your scene into thirds vertically and horizontally. The points where the lines intersect are spots where the eye will go first, so placing your subject along those will create more interest for the viewer. If you're taking a new photo, many phones have an option to overlay the lines right on the screen before taking your shot. You might be surprised how much better your picture looks!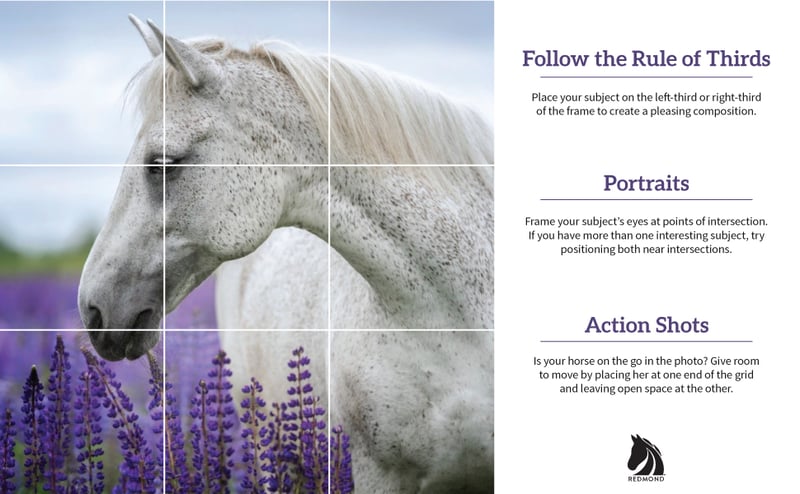 4. Snap that Selfie
Sometimes a picture of your horse just isn't complete without you in it. And when there's no one else around to help, you'll need to pony up and take it yourself. But how do you take a good selfie with a horse? You have limited real estate, and it can be tricky fitting your horse's entire head into a self-portrait. So what part of your pardner's handsome mug can you fit? Try a forehead-to-forehead shot or nose-to-snout closeup for starters.
Or maybe your selfie isn't meant to be a portrait at all. The sun might be casting a perfect silhouette of you both on the ground as you ride. Or your reflections are shimmering in the water where your horse drinks. Or you want to capture the image of your dusty boots next to your horse's hooves after a long ride. A selfie doesn't have to frame your faces, and getting innovative is never a bad idea. Creative composition—deciding which elements to include or exclude in the photo—can thrive in a selfie. Just find your specific moment and capture it.
5. Tell a Story
The most compelling images tell a story. They capture an emotion, set a scene, or show us some action. And there are so many stories to tell when a horse is in the picture. If you take a shot while you're in the saddle, getting your horse's ears in the photo changes the picture from "a pretty landscape" to "here's what our ride looked like!" If your horse is powerful or you have thrilling adventures together or you are best friends, find a way to tell that story in your photo. People will see it and wonder... and won't be able to look away.
6. Get an App
Photo-editing phone apps have come a long way. A good one—and many good ones are also free, thank you—can take your photos up a notch and make them look more professional or stylized. Our photographer Emma recommends A Color Story, Snapseed, and Lightroom for user-friendly and option-loaded apps. Don't be shy about trying out the features. And definitely don't fear the filter. A little tweaking with light, color, or cropping can change your photo from a good frame to a great one.
Interested in additional ideas to help you capture and live your best life with your horse? We've got more articles like this one on our blog! Click the button below to browse stories covering health bits, pro tips, and helpful info to elevate the relationship with your horse.
Learn More
© Redmond Equine 2022. All rights reserved.