A Redmond Story: Emma Uses Daily Gold Syringe
to Calm Her Stressed Horse
June 25, 2021
Does your horse suffer from performance anxiety? You're not alone. Many horses experience nervousness before competing or new situations. A stressed horse's behavior can be frustrating and embarrassing—especially when it affects your ability to perform your best.
Emma McDonald struggled to keep her horse Ruby calm and focused in the arena, which impacted their potential to connect and accomplish goals together. Emma chose Redmond's Daily Gold Syringe to treat stress in her horse because of the natural ingredients and affordable price. Read how it helped her and Ruby become a team again.
---
Meet Emma and Her Mare Ruby
Before discovering Redmond Daily Gold Stress Relief Syringe, my horse Ruby would go absolutely crazy in the arena. She was stressed out, tense, and hot to the point where I almost couldn't handle her.

Nothing I tried helped settle Ruby, and the pharmaceuticals that might have worked were way too expensive—plus, I didn't want to just drug my horse.

Redmond's pre-race paste syringe was different. It's 100% natural, with very simple ingredients and a great, affordable price.

The first real "wow" moment when I realized what an amazing product it is was at our season-opening ride at a large, local outdoor arena. Ruby is typically unmanageable at this venue. This time, however, she was calm. When I asked her to trot, she did—a perfect long trot with a great headset on a loose rein. She was cooperative and didn't try to canter with me even once.

Thanks to Redmond Daily Gold Stress Relief Syringe, Ruby and I can now have much more efficient workouts without either one of us getting frustrated.

— Emma McDonald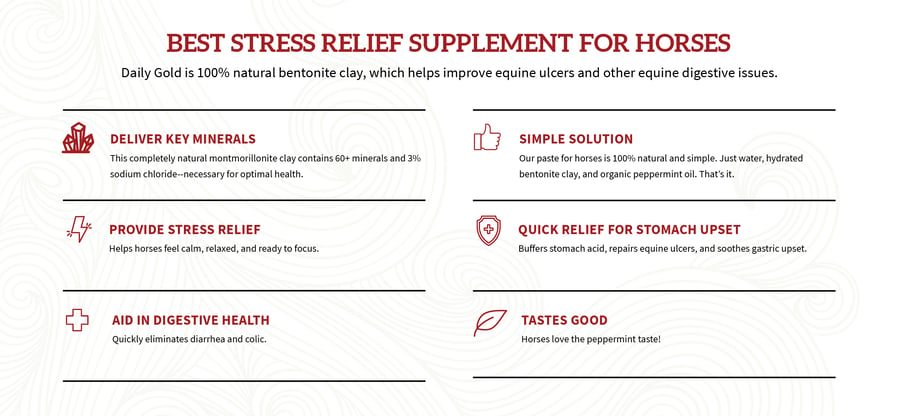 How Does Daily Gold Stress Relief Syringe Treat Stress in Horses?
Redmond Equine's Stress Relief Syringe calms horses with 100% natural bentonite clay. It buffers excess stomach acid created by nervousness and soothes gastric upset. Our performance paste naturally helps anxious horses feel comfortable, focused, and ready to perform their best.
Did you also know our horse syringe will not test? That's because we believe in keeping it clean—with absolutely no chemicals or calming drugs to either artificially enhance or take away the competitive edge from your horse's performance. Our paste contains just water, hydrated bentonite clay, and peppermint oil. That's it. Stressed horses will find natural relief and focus with our pre-race paste. Click below to purchase and ease your horse's stress today.
Learn More
Daily Gold Syringe helps barrel racers improve their horses' attitudes and achieve faster times. Watch the quick video below to see one racer's story.
© Redmond Equine. All rights reserved.