A Redmond Story: Kyra Uses Daily Gold
to Treat Stress in Her Horses
June 25, 2021
Seasoning a new performance horse can be stressful for both the horse and trainer. The rigors of a new routine, increased expectations, and strange sights, noises and surroundings can be overwhelming and create anxiety in horses. Stress can also decrease a horse's performance, willingness, and abilities.
Kyra Miller faced these same challenges with her new barrel horse Dodger. After researching supplements for horses, Kyra chose Daily Gold Stress Relief as an affordable choice to help calm her horse and get them both back on track. Keep reading to find out how she did it!
---
Introducing Kyra and Her Barrel Horse Dodger
When I first started training and seasoning my barrel racing prospect, A Super Perk, aka "Dodger," he was very antsy and anxious. He couldn't be tied without pawing at the ground, and he wasn't calm when stalled away from home. His behavior drove me a little crazy, not to mention, at times it was embarrassing.

Seasoning any type of performance horse is stressful. You want them to enjoy their job while keeping focused and collected. It was disheartening to see his anxiety when I knew he was capable of so much more.

I browsed intensely for a product that wouldn't break the bank but had the ingredients to help Dodger. When I discovered Daily Gold Stress Relief horse supplement, it truly felt like I had struck gold. First of all, it's absolutely affordable, and it offered everything to take the edge off in a simple, palatable formula.

It was while unloading my horse at a race that I knew the Daily Gold effect was real. I was starting to have my own little panic attack as I led Dodger into his stall, waiting for his usual dramatic response at being away from home... but nothing happened. He just checked out his new digs and started eating hay. Wow, was I relieved! He didn't paw at the trailer, and gave 100% work ethic. I'm not lying when I say he was like a different horse.

This is now our second season together and I'm so very proud of how far we've come. Shows are fun again! That, to me, means everything since we work so hard to get there. Having the Daily Gold as part of our regimen allows us to keep our game strong and progress without worrying about jeopardizing gut health. I know we'll only continue to become faster, better and stronger.

--Kyra Miller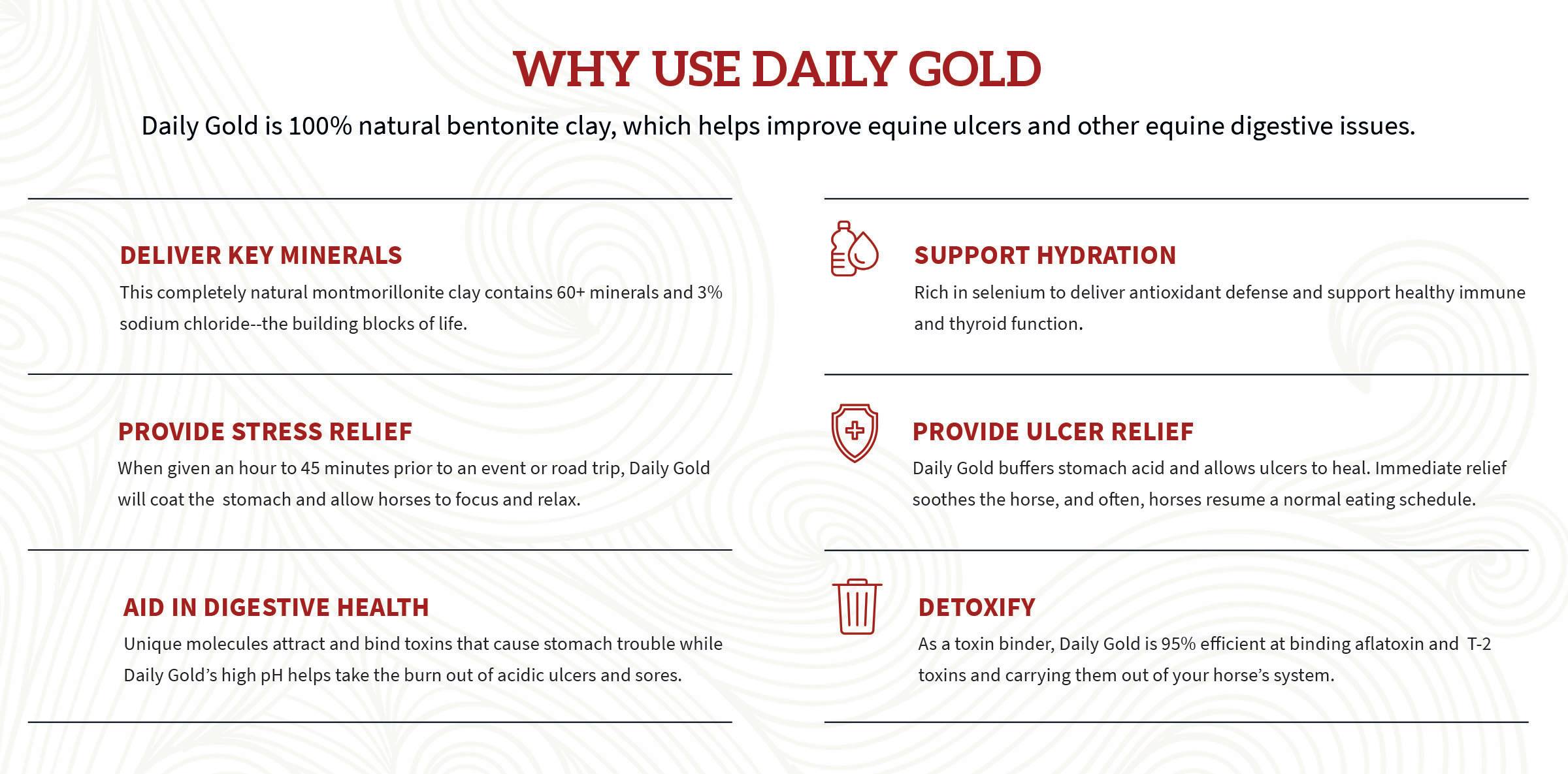 Daily Gold is Effective and Affordable Relief for Stressed Horses
Redmond Daily Gold helps your horse relax, feel ready to focus, and enables him to give his best effort in every situation. It works as a horse calmer before travel, performance or events, and when experiencing something new. How does it work? Daily Gold is made from 100% natural bentonite clay which coats the stomach and buffers excess acid that increases nerves, anxiety, and causes ulcers and diarrhea. It also has 60+ calming horse minerals that improve overall health, hydration, and wellbeing. Click below to try a Daily Gold sample pack!
Learn More
© Redmond Equine. All rights reserved.