A Redmond Story: Mineral Brand of Choice for Red Hot Running Horses
July 2, 2021
Access to a complete spectrum of balanced trace minerals is essential for hard-working horses with demanding training or event schedules. Without the right minerals, horses can't reach peak health, appearance, or performance levels.
Tricia Aldridge runs an equine training facility in Texas and struggled to find quality supplements with simple ingredients that met her horses' mineral needs. When she found Redmond, she made it her brand of choice and hasn't gone back. Read why below!
---
Meet Tricia, Owner of Red Hot Running Horses
I own Red Hot Running Horses out of Sanger, Texas, where we compete, sell, and breed futurity and open-level barrel horses. Taking care of our horses is a top priority, which includes supplying them with quality feed and essential minerals.

Before I discovered Redmond products, my horses were always lacking in sufficient minerals and I was always coming up short in finding a quality horse supplement that I was comfortable with.

I truly feel you can supplement one to death with all the options out there. I felt many of the supplements on the market had too many added ingredients in them, and I was looking for something simple yet effective for my horses.

For me, Redmond became my brand of choice. Redmond horse supplements are natural, clean, and have no fillers or additives. The natural sea salt and trace minerals help complete a balanced diet and replenish minerals my horses lose in the Texas heat or by running on Lasix.

Since discovering Redmond six months ago, I've been using their products on every horse in our barn! Daily Gold Stress Relief has been especially important for our 2020 futurity gelding, Sinaloa Stinson, aka "Casino." Casino has won $35,000 in his first 60 days competing. He runs on Daily Gold paste and gets the Daily Gold powder two times a day.

Casino can be a silent worrier—he doesn't show any outward signs of worrying, but can back off feed and show the signs of ulcers. The stress of competition can make that worse, and Daily Gold has really made a big difference in keeping Casino stress-free.

With Redmond, I feel like my horses are much better balanced overall—and they look and feel great. Including Redmond supplements with a good diet program has helped me get the most out of my horses.

— Tricia Aldridge, Red Hot Running Horses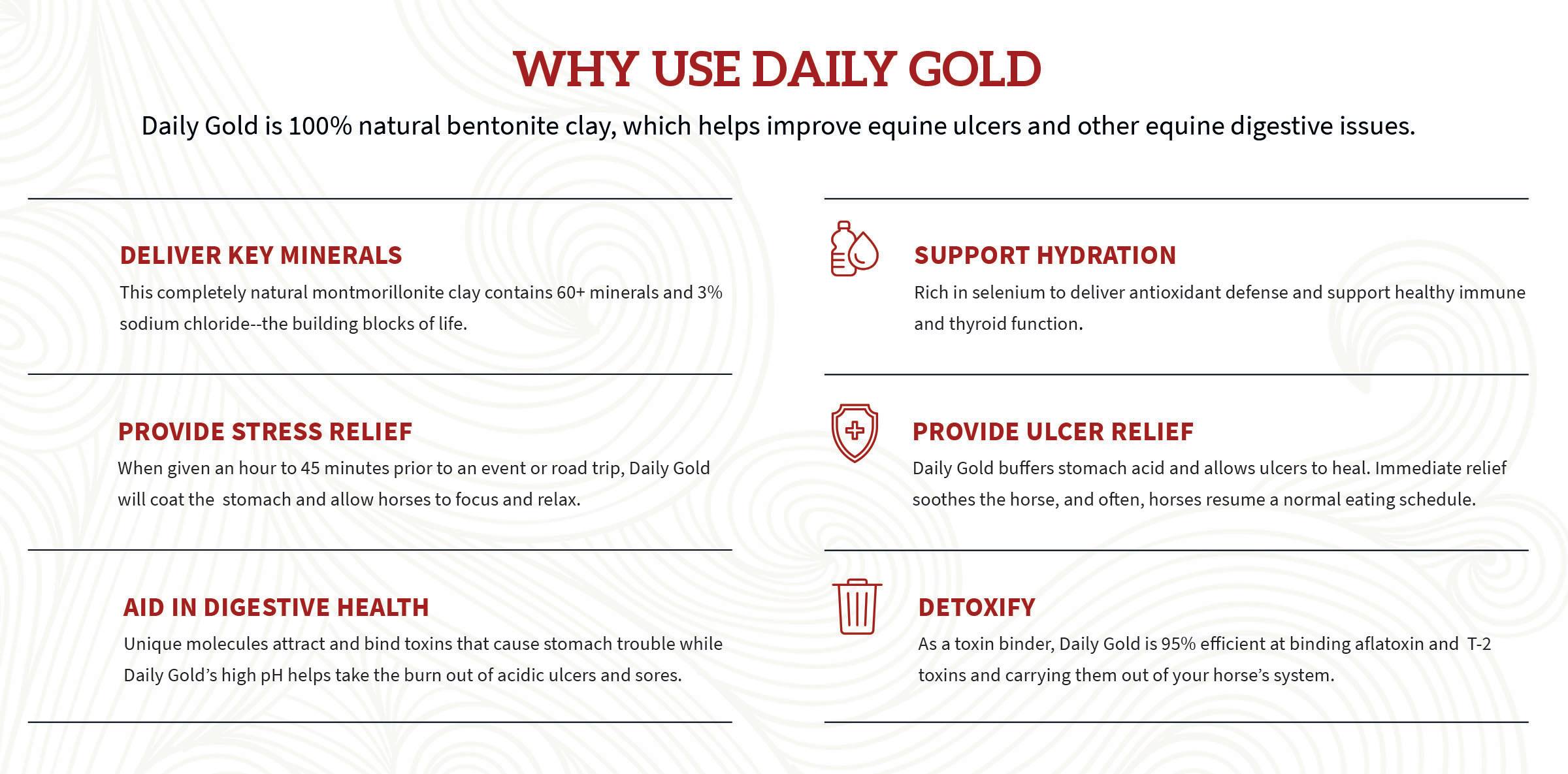 Simple, Effective Horse Mineral Supplements
All of our Redmond horse mineral supplements, including Daily Gold, Redmond Rock, Redmond Rock Crushed, and Daily Red are unprocessed and unrefined. They come to you straight from our Redmond mineral deposit in Utah, USA. Each product has 60+ trace minerals and electrolytes for horses that are made and balanced by nature. Click below to shop all-natural Redmond supplements and take the guesswork out of meeting your horses' mineral needs!
Learn More
Copyright © Redmond Equine. All rights reserved.